Backscattering particle immunoassays in wire-guide droplet manipulations
Journal of Biological Engineering
2008
2:15
Received: 20 March 2008
Accepted: 17 November 2008
Published: 17 November 2008
Abstract
A simpler way for manipulating droplets on a flat surface was demonstrated, eliminating the complications in the existing methods of open-surface digital microfluidics. Programmed and motorized movements of 10 μL droplets were demonstrated using stepper motors and microcontrollers, including merging, complicated movement along the programmed path, and rapid mixing. Latex immunoagglutination assays for mouse immunoglobulin G, bovine viral diarrhea virus and Escherichia coli were demonstrated by merging two droplets on a superhydrophobic surface (contact angle = 155 ± 2°) and using subsequent back light scattering detection, with detection limits of 50 pg mL-1, 2.5 TCID50 mL-1 and 85 CFU mL-1, respectively, all significantly lower than the other immunoassay demonstrations in conventional microfluidics (~1 ng mL-1 for proteins, ~100 TCID50 mL-1 for viruses and ~100 CFU mL-1 for bacteria). Advantages of this system over conventional microfluidics or microwell plate assays include: (1) minimized biofouling and repeated use (>100 times) of a platform; (2) possibility of nanoliter droplet manipulation; (3) reprogrammability with a computer or a game pad interface.
Keywords
Water Contact AngleStepper MotorBovine Viral Diarrhea VirusSuperhydrophobic SurfaceMetal Wire
Background
There has been a growing interest in recent years for digital microfluidics through manipulating droplets on an open surface. Although there are some arguments regarding whether it is better to use microflows or droplets in microfluidics, it is clear that complex and reconfigurable (or reprogrammable) bioanalysis and biorecognition are only possible by using droplets [
1
]. There are two different types of droplet manipulations: (1) using discrete liquid plugs in pre-defined microchannels [
2
,
3
], or (2) using droplets sitting on an open, flat surface [
4
,
5
]. Although the former (liquid-plug type) has been popular in digital microfluidics, the latter (open-surface type) has more potential as its reaction protocol can be reprogrammed to whatever combination one can conceive. A couple of droplet manipulation attempts have been demonstrated on an open surface, most notably magnetofluidics (Figure
1
in the left). In magnetofluidics, droplets containing paramagnetic particles move over a superhydrophobic surface under the influence of an external magnetic field [
6
]. Paramagnetic particles should be designed not to interfere with biological reactions, a capability that has not been confirmed yet.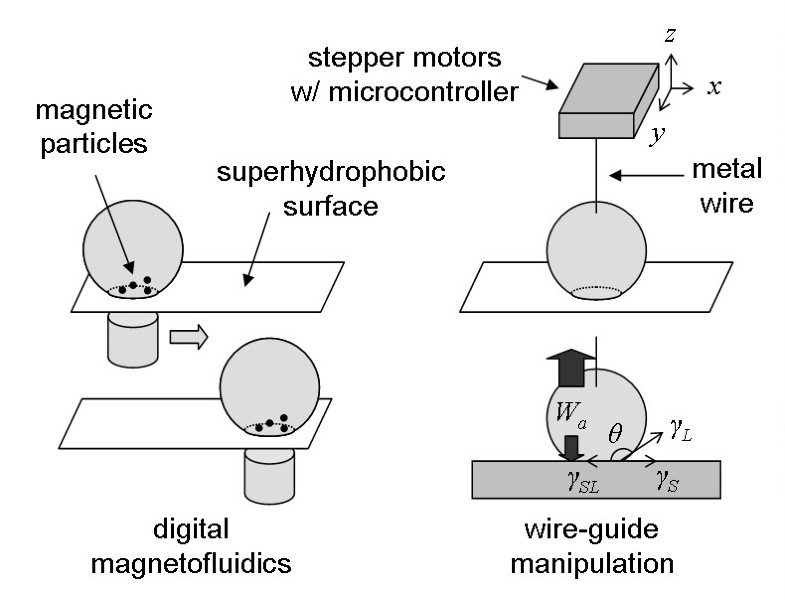 Whether we are able to manipulate a droplet or not depends primarily on the surface tension of the droplet, which is closely associated with its contact angle. Figure 1 in the bottom right graphically defines the liquid contact angle θ. In most cases, the liquid is water or other aqueous solution. A liquid drop sitting on a certain surface maintains its shape due to the equilibrium in its surface tensions, specifically at its three-phase borderline. At this line, three different surface tensions are in exact balance, γ SL (solid-liquid), γ SV (solid-vapor) and γ LV (liquid-vapor). The latter two are often abbreviated as γ S and γ L since vapor can be approximated as vacuum (hence no subscript). As shown in Figure 1, the balance of three surface tension vectors should provide the following Young equation [7]:
γ SL =γ S -γ L cos θ.
The Dupré equation describes the interaction between two different materials. For a solid surface and a liquid drop, the free energy of the work of adhesion (W a ; the adhesive energy of a liquid drop to a solid surface) is [7]:
W a = γ S + γ L - γ SL .
Combining the Young and Dupré equations yields the following definition on the work of adhesion (Young-Dupré equation):
W a = γ L (1 + cos θ).
Equation (3) tells us how much work should be provided to overcome W a of a droplet to a surface, which is primarily a function of θ (γ L is constant if the liquid is mostly water).
In magnetofluidics, it is difficult to calculate the exact magnetic energy between paramagnetic particles and a magnetic bar shown in Figure 1 in the left. Since magnetofluidics has not been successful with conventional plastic surfaces, we can assume such magnetic energy is generally too weak to overcome W a for many conventional surfaces. Therefore, a superhydrophobic surface (whose water contact angle θ is 150° or higher) is needed in order to minimize both the contact area and W a for a droplet (the latter is often defined as "frictional force").
In both cases, external electric or magnetic fields may affect the behavior of biomolecules, thus affecting subsequent bioanalysis and biorecognition. In fact, optical detection was never demonstrated for magnetofluidics. A simpler way for manipulating droplets on a flat surface is needed to minimize the complications described above. A clean, metal wire (water contact angle θ < 10°) may be inserted into a droplet to guide its movement on a surface. However, the W a of a droplet to a metal wire is simply too small to overcome the W a to a flat surface due to the small contact area between the droplet and wire. Since W a = γ L (1 + cos θ), where γ L is the liquid surface tension, a very large θ may make this movement possible. In this work, we used a superhydrophobic surface with θ = 155° for droplet manipulations. Linear movements and subsequent merging of two droplets were attempted.
We demonstrated this droplet merging for particle immunoassays (more specifically, latex immunoagglutination assays). One droplet contained antibody-conjugated latex particles and the other contained target antigens. Three different target antigens were tested: mouse immunoglobulin G (mIgG; model protein), bovine viral diarrhea virus (BVDV; model virus) and Escherichia coli (E. coli; model bacterium). Antibody-antigen binding caused the latex particles to agglutinate, leading to the increased extent of light scattering, which was used for detection [8].
Light scattering detection is the most appropriate sensing modality for latex immunoagglutination, as there is no fluorescent dye in the system. Incident beam of light is scattered to all directions by latex particles, which is usually elastic (i.e. the wavelength of incident light is the same as that of scattered light). Incident and scattered light can be distinguished by locating a light detector not in parallel with the light source but at a certain angle (15°, 30°, 45°, 90° and 180° are commonly used; we used 180° which is back scattering). We used microparticles (920 nm in diameter) whose light scattering roughly follows the Mie theory [9]. In this regime, light scattering intensity is a strong function of the particle size rather than the particle number; hence latex immunoagglutination leads to larger extent of light scattering [10]. We maintained the intensity of a light source as constant, i.e. static light scattering.
Results and discussion
Wire-guide manipulations for open-surface digitalmicrofluidics
Figure 2 shows the merging of two 10 μL droplets of deionized water (from Millipore Simplicity, Molsheim, France) on a superhydrophobic surface, clearly demonstrating two basic droplet manipulations: moving and merging. Movements were repeatable over the same line more than 10 times, regardless of the content of droplets. Movements were also successful for 5 and 20 μL droplets. Droplets were removed simply by tilting the surface and no further cleaning/rinsing was performed. Similar experiments were performed using polystyrene surfaces (plastic Petri dishes from Fisher Scientific; Pittsburg, PA, USA), but movements were not successful.
The water contact angles (
θ
) were 155 ± 2° on superhydrophobic surfaces, and those for 0.02% w/v antibody-conjugated particles and target solutions were not significantly different from those of water (154° to 156° with standard deviations of 2°), as measured using FTÅ200 (from First Ten Ångstroms, Portsmouth, VA, USA). The liquid surface tensions (
γ
L
) were also similar regardless of solution, and were measured at 73 ± 1 mN/m also using FTÅ200. The contact area of 10 μL droplet was measured as 2.0 ± 0.2 mm
2
(by FTÅ 200). Therefore, the work of adhesion (
W
a
) of 10 μL droplets to the superhydrophobic surfaces is: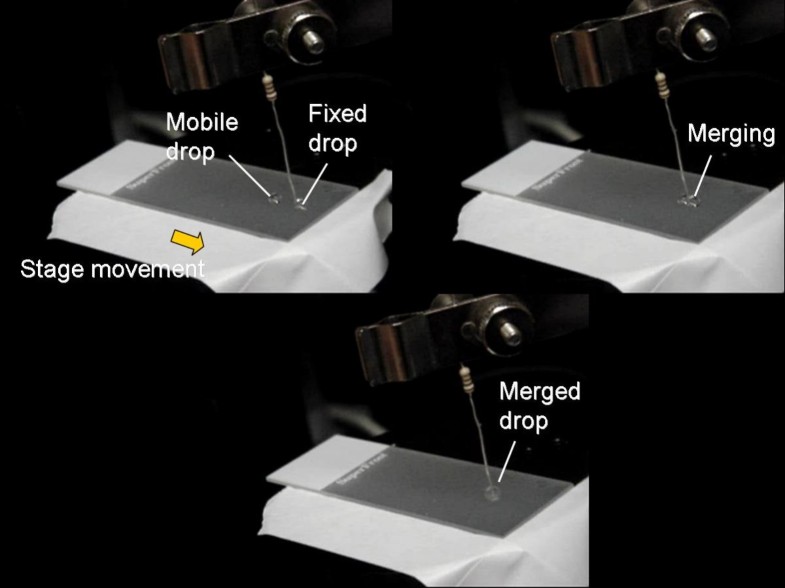 (73 mN/m) (1 + cos 155°) (2.0 mm2) = 14 nJ.
Similar analysis can be made for the metal wires. (Note that a resistor was used merely as a metal wire; no voltage was applied.) Since the diameter of the metal wire was 0.5 mm and the insertion depth was 2 mm, the contact area between the metal wire and the droplet was 0.39 mm2. Since most clean metal surfaces have a water contact angle of 10° [11], W a can be estimated as:
(73 mN/m) (1 + cos 10°) (0.39 mm2) = 57 nJ,
which is larger than that of a droplet to a superhydrophobic surface, consequently enabling droplet movement.
The water contact angles on the polystyrene surfaces were 91 ± 5° and the contact area of 10 μL droplets were 10.5 ± 0.4 mm2 (again using FTÅ200). The W a of 10 μL droplet to a polystyrene surfaces is:
(73 mN/m) (1 + cos 91°) (10.5 mm2) = 750 nJ,
indicating a droplet cannot be moved with a metal wire on a polystyrene surface.
Particle immunoassays in open-surface digital microfluidics
Figures 3, 4 and 5 show the maximum light intensities taken from the merged droplets. All results are the averages of three different experiments (i.e. each taken from different merged droplets). Error bars indicate standard deviations. Paired, two-tailed t-tests were performed by comparing each dilution with a blank (10 mM PBS). Dilutions with significant differences from the blank are indicated by the grey color. The detection limit for mouse immunoglobulin G (mIgG) was 50 pg mL-1, equivalent to 0.5 pg of mIgG in a 10 μL target droplet.
The detection limit for bovine viral diarrhea virus (BVDV) was 2.5 TCID
50
mL
-1
(TCID
50
= 50% tissue culture infectious dose), equivalent to 0.025 TCID
50
for a 10 μL target drop. Although this detection limit is much lower than many other assays, it is still a possible number since there are at least hundreds or up to a few tens of thousands of virus particles in 1 TCID
50
. The detection limit for
E. coli
was 85 CFU mL
-1
(CFU = colony forming unit), equivalent to 0.85 CFU for a 10 μL target drop and subsequently less than one bacterium (assuming 1 CFU = 1 viable cells). We have to recall that BVDV solutions were washed by centrifuging, eliminating a bulk of cell fragments and free antigens that may be recognized by anti-BVDV (specific or non-specific). We may attribute the smaller standard deviations for BVDV compared to mIgG and
E. coli
to this washing treatment. In contrast,
E. coli
solutions were not washed by centrifuging, and they possibly contained many cell fragments and free antigens [
12
]. This indicates that the number of
E. coli
antigens may be much larger than one when the viable cell count = 1.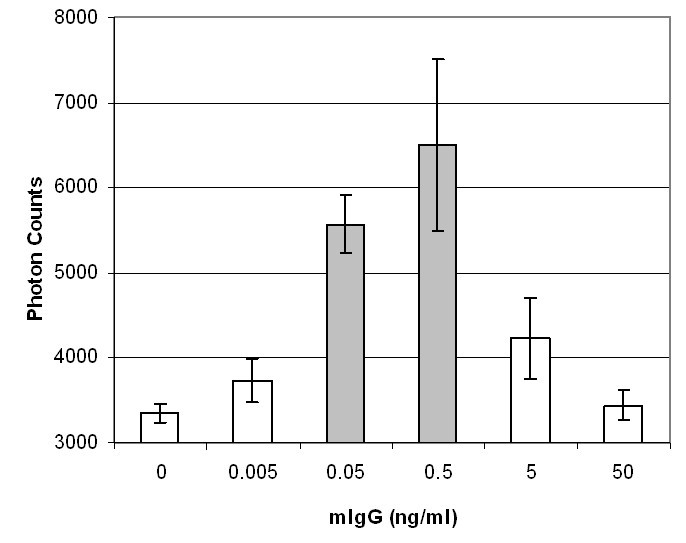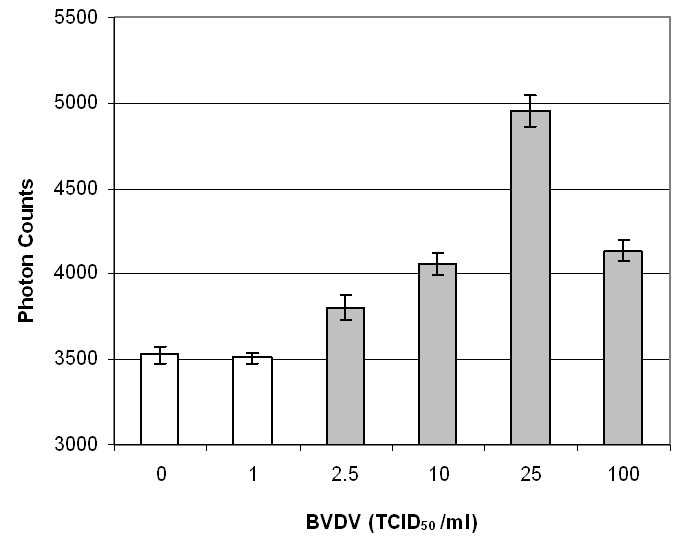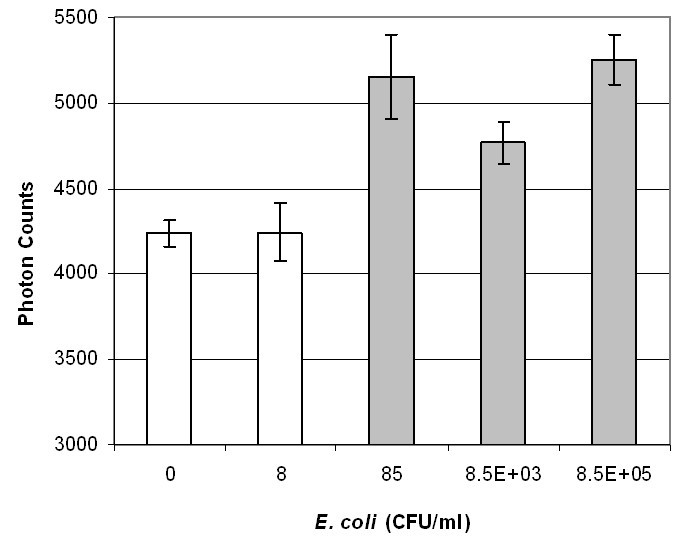 All three figures follow the so-called Heidelberger-Kendall curve [10], characterized by initial increase at lower target (antigen) concentrations, followed by a decrease at higher concentrations. The left-hand side (initial increase) can serve as a calibration curve, as well as providing a linear range of immunoassay. The right-hand side (decrease at higher concentrations) represents the antigen-excess region (i.e. too much target antigens for a fixed amount of antibodies bound to the particles), which inhibits antibody-antigen binding. The apparent advantage of this droplet manipulation is that the liquids are in minimal contact with solid surfaces. The bottom superhydrophobic surface consists largely of air pockets and the contact area of a top wire is extremely small. This minimized contact reduces biomolecular adsorption (biofouling), enabling repeated use of a platform. In fact, a single superhydrophobic surface could be repeatedly used for > 100 times for all droplets used in this experiments (blank and target solutions as well as antibody-conjugated particle suspensions). In this sense, we believe this setup can replace the standard microwell plate assays, where liquids are in direct contact with surfaces (thus resulting in more biofouling). Liquid volume is smaller than that of microwell plate assays, which may be further lowered to nanoliter scale (presumably in oil immersion to prevent rapid evaporation).
Motorizing and programming the wire manipulations
To demonstrate the automation possibility of these wire-guide droplet manipulations, we constructed a three-axis droplet manipulator using stepping motors and subsequent microcontrollers. Figure
6
shows the snapshots of pre-programmed movements of a droplet, starting from (1) taking a 10 μL droplet of 0.02% (w/v) antibody-conjugated particle suspension by inserting the wire into the droplet, (2) its linear movements, (3) merging with a 10 μL target droplet, and (4) linear movements of this merged 20 μL droplet towards the detection site. Complete movie is also available as Additional file
1
, which also shows the movements controlled by a game pad.
We also demonstrated the rapid mixing of a merged droplet, by mechanically vibrating the wire with a vibration motor. Figure 7 shows the snapshots of this movie. Complete movie is also available as Additional file 1. The total cost of materials and supplies were less than $230 (excluding the experimenter's labor), which demonstrates the feasibility of this new droplet manipulation. Additionally, smaller stepper motors and integrated circuits (all commercially available) could greatly reduce the overall size of this setup.
These automated and programmed droplet manipulations eventually lead to "reprogrammable" digital microfluidics, where the reaction protocols can be altered by the user's program input or simply by the user's control of a game pad. Potential applications include, but are not limited to: potentiometric/conductometric titration, immunoassay, serial dilution, polymerase chain reaction (PCR) and single cell analysis.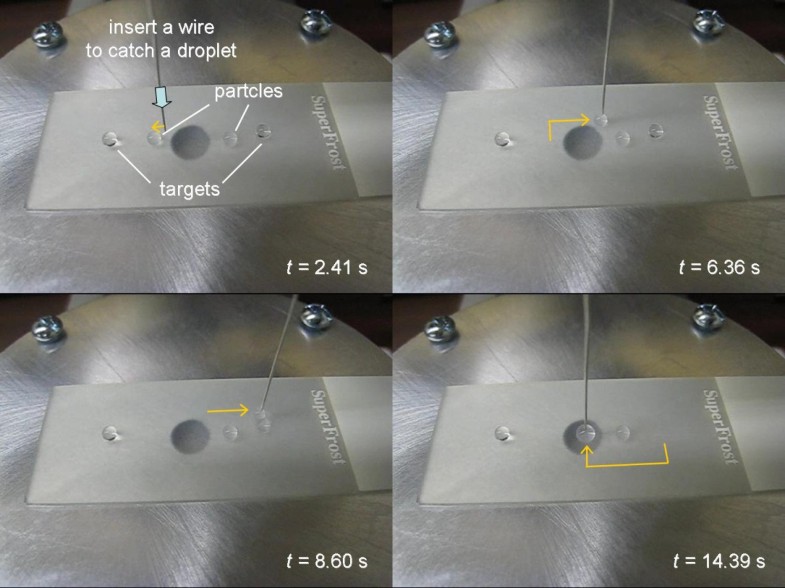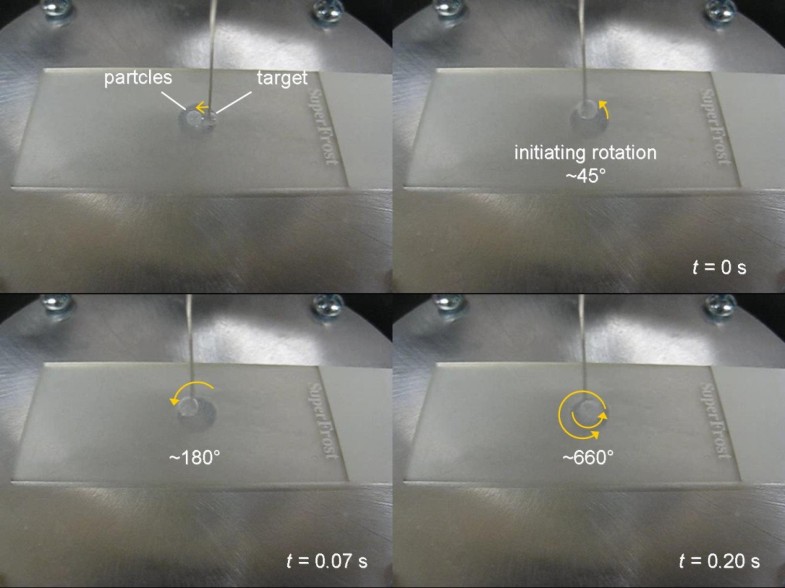 Conclusion
To summarize, a proof-of-concept was demonstrated for the wire-guide droplet manipulations and subsequent bioanalysis. Detection limits were extremely low compared to the other immunoassay demonstrations in conventional microfluidics; > 1 ng mL-1 for proteins [13–15], > 100 TCID50 mL-1 for viruses [16, 17], > 100 CFU mL-1 for bacteria [18, 19]. We hope this new method would substitute magnetofluidics by minimizing or even eliminating their complications, such as biomolecular adsorption, possible interferences by external electrical or magnetic field. The simplicity of this wire-guide manipulation is also demonstrated with automated, programmed movements of droplets.
Declarations
Acknowledgements
The authors are grateful to Mr. Jin-Hee Han at the University of Arizona for their help in antibody conjugation and E. coli cell counting, and Dr. Jae-Young Song at National Veterinary Research and Quarantine Service (NVRQS) in South Korea for helpful discussion in BVDV assay. Funding for this work was provided by NVRQS, award no. C-AD14-2006-11-00.
Authors' Affiliations
(1)
Department of Agricultural and Biosystems Engineering, the University of Arizona, Tucson, USA
Copyright
© Yoon and You; licensee BioMed Central Ltd. 2008
This article is published under license to BioMed Central Ltd. This is an Open Access article distributed under the terms of the Creative Commons Attribution License (http://creativecommons.org/licenses/by/2.0), which permits unrestricted use, distribution, and reproduction in any medium, provided the original work is properly cited.