Modular assembly of designer PUF proteins for specific post-transcriptional regulation of endogenous RNA
Journal of Biological Engineering
2014
8:7
Received: 8 October 2013
Accepted: 8 February 2014
Published: 1 March 2014
Abstract
Background
Due to their modular repeat structure, Pumilio/fem-3 mRNA binding factor (PUF) proteins are promising candidates for designer RNA-binding protein (RBP) engineering. To further facilitate the application of the PUF domain for the sequence-specific RBP engineering, a rapid cloning approach is desirable that would allow efficient introduction of multiple key amino acid mutations in the protein. Here, we report the implementation of the Golden Gate cloning method for an efficient one-step assembly of a designer PUF domain for RNA specificity engineering.
Results
We created a repeat module library that is potentially capable of generating a PUF domain with any desired specificity. PUF domains with multiple repeat modifications for the recognition of altered RNA targets were obtained in a one-step assembly reaction, which was found to be highly efficient. The new PUF variants exhibited high in vitro binding efficiencies to cognate RNA sequences, corroborating the applicability of the modular approach for PUF engineering. To demonstrate the application of the PUF domain assembly method for RBP engineering, we fused the PUF domain to a post-transcriptional regulator and observed a sequence-specific reporter and endogenous gene repression in human cell lines.
Conclusions
The Golden Gate based cloning approach thus should allow greater flexibility and speed in implementing the PUF protein scaffold for engineering designer RBPs, and facilitate its use as a tool in basic and applied biology and medicine.
Keywords
Protein engineeringRNA-binding proteinPost-transcriptional regulationPUFPumilioTristetraprolinTTPGolden Gate
Background
The presence of RNA-binding proteins (RBPs) in RNA biology is ubiquitous. Hundreds to thousands of eukaryotic proteins are estimated to function as RBPs [1] and govern many aspects of RNA biology including translation, turnover, processing, and cellular localization [2–4]. Despite their great diversity in function, only a few types of RNA-binding domains are known, which are combined in different structural arrangements with a variety of functional domains [5]. This modular architecture makes RBPs an attractive tool for studying the vast complexity of eukaryotic transcriptomes as well as manipulating RNA for therapeutic purposes [6, 7].
The function of many RBPs can be studied [8–11] by tethering them to a reporter RNA through a well-characterized RNA-binding peptide with a fixed specificity [12]. However, this approach can only be applied to manipulate heterologous RNA because prior tagging of the RNA is required. In order to manipulate endogenous RNA in its native expression conditions, one could envision a designer RBP with an RNA-binding scaffold that could be easily engineered for sequence specificity. To date, only pentatricopeptide repeat [13, 14] and Pumilio/fem-3 mRNA binding factor (PUF) [15–18] proteins have been demonstrated to have the potential to be rationally modified for predictable and specific RNA recognition.
PUF proteins are eukaryotic RBPs that are involved in post-transcriptional gene regulation [
19
]. The crystal structure of Pumilio homology domain (PUM-HD), the RNA-binding region of the human Pumilio 1 (PUM1) protein (Figure
1
a), reveals 8 structural repeats, each containing ~36 amino acids (aa), and flanking N-and C-terminal regions [
20
,
21
]. The structure also suggests that recognition of the target RNA sequence is highly modular since each repeat binds to a single RNA base [
15
]. The N-terminal repeat (R1) binds to the 3′-nucleotide residue (N8) of the target sequence (Figure
1
a and b), while the C-terminal repeat (R8) binds to the 5′-nucleotide residue (N1). Residues at positions 12 and 16 in each repeat directly interact with a Watson-Crick edge of a base, whereas the residue at position 13 is involved in a stacking interaction between two adjacent bases [
15
]. The structure suggests a recognition "code", where residues at positions 12 and 16 in each repeat contribute to specific recognition of a base, with N
12
Q
16
recognizing uracil, C
12
Q
16
adenine, and S
12
E
16
guanine [
15
]. The residue combination S
12
R
16
was engineered to recognize cytosine [
17
,
18
]. By swapping the key residues at these positions, it was shown that designed PUF proteins with altered specificity could be engineered [
16
,
22
]. In the past several years, engineered PUF domains were successfully fused to different effector domains for polyadenylation of an endogenous gene or repression of a reporter gene in
Xenopus
[
23
], cleavage of a mitochondrial-encoded gene in human cells [
24
], splicing regulation of endogenous
Bcl
-
X
pre-mRNA in human cells [
25
], and imaging endogenous RNA [
26
–
28
]. These advancements demonstrate the growing potential for the RBPs with various functional domains and engineered specificity.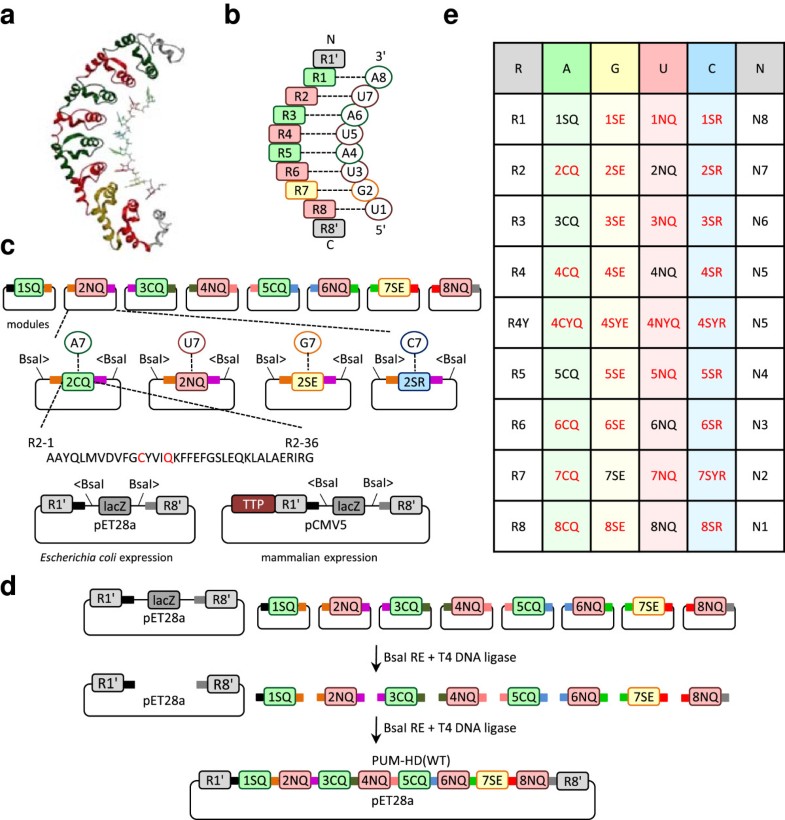 However, PUF-based RBPs are still far from widespread implementation. One of the limitations in engineering PUF domains with novel specificities is the lack of a cloning platform capable of rapid and efficient introduction of multiple mutations in separate repeats simultaneously. In this study, we report the implementation of the Golden Gate (GG) cloning, Type IIS restriction endonuclease-based approach [29] for engineering of PUF-based RBPs. To demonstrate the efficiency of this approach, we first used this cloning method for construction of several mutant PUF domains with novel specificities and assayed their binding affinities. Second, we linked the RNA-binding activity of engineered PUF domains to the translational repression activity of tristetraprolin (TTP), and used the fusion protein in a functional reporter system to assay the PUF domain activity in HeLa cells. Finally, we showed the application of the engineered TTP-PUF fusion proteins for the post-transcriptional regulation of an endogenous gene in HEK293 cells.
Conclusions
In this study, we established a toolkit for rapid engineering of designer RBPs that can be used for manipulation of endogenous genes. This approach should allow greater flexibility and speed at creating PUF domains with user-defined specificities and thus facilitate the use of PUF-based designer RBPs as a tool in research and therapeutics. We demonstrated that PUF mutants with as many as 8/8 mutant modules can be cloned with high efficiency and that the resulting proteins retain their specificity and high affinity to their cognate RNA in vitro. This result is consistent with the study by Cheong and Hall [16] and confirms the RNA recognition code and modularity of PUF domains. Finally, we were able to demonstrate the implementation of the protein-based post-transcriptional repressor for down-regulation of an endogenous gene. The TPUF platform introduced in this work exhibits modular and sequence-specific recognition and down-regulation of genes. We envision the future development of PUF-based RBPs with various functionalities that could range from endogenous RNA splicing, imaging, and localization to various base modifications and more. The development of rapid assembly tools for PUF specificity engineering, as presented in this work, could play a critical role in facilitating and enhancing these endeavors.
Methods
Materials
All the chemicals and solutions were purchased from Fisher Scientific (Pittsburgh, PA), unless noted otherwise. Oligonucleotides were purchased from Integrated DNA Technologies (Coralville, IA). All the enzymes were purchased from New England Biolabs (Ipswich, MA), unless noted otherwise.
Library creation
The amino acid and DNA sequences of all the modules in our GG cloning library are listed in Additional file 1: Table S1. All the amplification primers used for the creation of the library are listed in Additional file 1: Table S2. The intermediate vector, pChlr-pNEB193, was created by replacing the original amp resistance gene in pNEB193 (New England Biolabs) plasmid with the cam resistance gene from pACYC (New England Biolabs) plasmid by Gibson Assembly (GA) [45]. Plasmid pTYB3-PUM1-HD [GenBank:D43951] was a gift of Dr. Traci M. Tanaka Hall (Addgene plasmid 17543). The WT GG assembly modules were amplified from pTYB3-PUM1-HD and inserted in the SacI and HindIII sites of the intermediate vector. The amplification primers also contained BsaI sites for subsequent GG cloning. Some of the modules' 5′ and 3′ ends were modified with silent mutations (Additional file 1: Table S1) for the creation of non-overlapping BsaI overhangs. The mutant GG modules were created by GA from the corresponding WT modules.
The receiving vector pET28-GG-PUF was GA-cloned from the following fragments: pET28a (Novagen) digested with NdeI and SalI, flanking PUM-HD repeats R1′ and R8′ amplified from pTYB3-PUM1-HD, and lacZ α amplified from pNEB193. BsaI sites were introduced next to R1′ and R8′ for GG cloning of PUM-HD. The receiving vector pCMV-TTP (C147R)-GG-PUF was cloned in two steps. First, pCMV-TTP-GG-PUF was created by replacing PUM-HD with a lacZ α gene flanked by BsaI sites and removal of 3 existing BsaI sites in the pCMV-TTP (WT)-PUM-HD (see the effector plasmids section). Next, pCMV-TTP (C147R)-GG-PUF was GA-cloned by replacing Flag with 3xFlag and mutating the C147R of TTP in the plasmid pCMV-TTP-GG-PUF.
For the availability to the scientific community, we are making arrangements to deposit all the plasmids constituting the PUM-HD repeat library that we have developed here to the Addgene non-profit plasmid repository. These plasmids should be available to researchers within a month of the publication of this manuscript.
Reporter plasmids
pCMV-Fluc plasmid was created by amplification of the firefly luciferase gene from pGL3 plasmid (Promega) and insertion into SacI and KpnI sites of pCMV5 vector (a gift of Dr. David Russell). All the pCMV-Fluc-10xPBS plasmids, as well as pCMV-Fluc-Random were cloned by primer-extension of 6 primers (Additional file 1: Table S3) carrying 10 PBSs and subsequent GA-cloning into PstI and XmaI sites of the pCMV-Fluc plasmid. The 6-18 nt spacers between the 10 PBS in the 3′ UTR of the FL were the same in different FL-PBS sequences, and were designed in such a way to minimize secondary structure formation that would involve these spacers. The pCMV-Fluc-Random was created by replacing all the PBSs in the pCMV-Fluc-10xPBS with 10 different scrambled sequences of 8 nt with approximately 50% GC content. Plasmid pRL-SV40 was a gift of Dr. David J. Shapiro.
Effector plasmids
The effector plasmid pCMV-TTP (WT)-PUM-HD was GA-cloned from the following fragments: 2.2 kb and 2.4 kb pCMV5 fragments, GS-PUM-HD amplified from pTYB3-PUM1-HD, and TTP-GS amplified from cDNA (Open Biosystems catalog number MHS4768-99609440 [GenBank: BC009693.1]). pCMV-TTP (WT) and pCMV-PUM-HD have been assembled from the same vector backbone fragments, as well as TTP-stop or Flag-PUM-HD fragments, respectively (for primers, see Additional file 1: Table S4).
Golden gate assembly of mutant effector plasmids
His-tagged PUF or 3xFlag-tagged TPUF constructs for E. coli or mammalian expression were assembled in pET28-GG-PUF or pCMV-TTP (C147R)-GG-PUF, respectively. Receiving vector of choice (50 ng) and 8 modules of choice (75 ng each) were combined with 1 μl T4 DNA ligase and 1 μl BsaI-HF in 10 μl 1× T4 DNA ligase buffer. The reactions were cycled 10 times for 5 min at 37°C and 10 min at 16°C, and a final incubation of 15 min at 37°C. TOP10 E. coli cells (Invitrogen) were then transformed with the cloning reactions and plated on LB plates (Cell Media Facility, UIUC) with either kan or amp selection, and supplemented with 10 μl 0.4 M IPTG (GoldBio) and 40 μl 20 mg/ml Bluo-Gal (Invitrogen) for blue-white screening. All the plasmids for E. coli expression were purified using Qiagen Qiaprep Spin Miniprep kit, and plasmids for mammalian expression were purified using Qiagen Plasmid Mini kit.
Protein expression and purification
His-tagged recombinant PUF proteins were expressed in E. coli strain BL21 (DE3) (Novagen). The transformed BL21 cultures were grown in 100 ml LB until they reached an OD600 of 0.8, induced with 0.4 mM IPTG and expressed at 18°C, 250 RPM overnight. Bacterial pellets were resuspended in lysis buffer (25 mM Tris-HCl pH 7.5, 0.3 M NaCl, 0.5% Triton (Bio-Rad), 5% glycerol (Sigma), 1 mg/ml lysozyme (Sigma), and 0.002 U/μl DNase I) and lysed by sonication. The proteins were purified using Talon Spin Columns (Clontech), according to manufacturer's instructions. The eluted protein was flash-frozen in 25% glycerol in dry ice and stored in aliquots at -80°C.
Fluorescence polarization assay
RNA oligomers were modified with 6-carboxyfluorescein (IDT) at the 5′-end. To determine active protein fractions, we performed saturation assays for PUF proteins against their cognate RNA (a representative saturation curve is shown in Additional file 1: Figure S2a). High concentrations (100 nM) of RNA oligomers in fluorescence anisotropy buffer (20 mM Tris-HCl pH 7.5, 0.5 mM EDTA, 50 mM KCl, 0.1 mg/ml BSA) were mixed with various protein concentrations (determined by Bradford assay), and 200 μl protein-RNA mixtures were assayed (for fluorescence polarization measurements, see below) in black 96-well plates (Corning). The stoichiometric points were used to estimate the active protein fractions, which were determined to be 31% for PUF (WT), 30% for PUF (S2), 30% for PUF (S4), 33% for PUF (S6), and 29% for PUF (S6). Corrected active protein concentrations were used in the subsequent binding curves for the determination of the dissociation constants KD, where RNA oligomers (250 pM RNA for PUF (WT) and 1 nM RNA for PUF (S2)-PUF (S8)) in the fluorescence anisotropy buffer were mixed with various protein concentrations, and duplicates of 200 μl protein-RNA mixtures were assayed.
Fluorescence polarization measurements were taken on Tecan Infinite 200Pro using excitation and emission wavelengths of 485 nm and 535 nm, respectively. The fluorescence polarization values were converted to fluorescence anisotropy values using Equation
1
, where A is anisotropy and P is polarization. The K
D
was calculated by curve fitting on Origin 8.5 using Equation
2
, where A is observed anisotropy value, A
f
is anisotropy of free RNA, A
b
is anisotropy of bound RNA, L
T
is total ligand (RNA) concentration, and R
T
is total receptor (protein) concentration.
Cell line transfection and dual luciferase assay
Transfection of HeLa cells (ATCC) was performed in triplicates in a 24-well plate format with Fugene-HD transfection reagent (Promega). Transfection mixtures contained 150 ng FL, 2 ng pRL-SV40, and 75 ng TPUF or equimolar amounts of other effector DNA constructs, and empty vector pCMV5 to 500 ng total. Cells were lysed in Passive Lysis Buffer (Promega) 48 h after transfection and FL and RL activities were measured in white 96-well plates (Greiner Bio One) using Dual-Glo Luciferase Assay System (Promega) with measurements taken on Analyst HT microplate reader at the High-Throughput Screening Facility at UIUC.
RT-PCR
Total RNA was isolated from HeLa cells 48 hours after transfection using the RNeasy Mini Kit (Qiagen) following manufacturer's instructions, and DNA was removed from samples with Turbo DNase (Life Technologies). RNA was reverse transcribed into cDNA with ProtoScript First Strand cDNA Synthesis kit (NEB) using the d(T)23VN primer. Reverse transcriptase was omitted in control samples. RT-PCR was performed using Power SYBR Green Master Mix (Life Technologies) with the 7900HT Fast Real-Time PCR System (Applied Biosystems). Reactions were carried out in triplicates in 20 μl reactions with 500 nM of each primer. The primer sequences for FL were 5′-GCGCGGAGGAGTTGTGTTTG and 5′-ATCTTTCCGCCCTTCTTGGC; and for RL 5′-GCAGCATATCTTG AACCATTC and 5′-TTGTACAACGTCAGGTTTACC. ΔΔCT method was used for RNA level analysis, where FL mRNA levels were normalized to RL mRNA, and FLPBS (WT) mRNA levels were normalized to FLRandom.
VEGF induction and ELISA assay
For hypoxia-induced VEGFA, HEK293 cells were transfected in a 24-well plate format in triplicates with Fugene-HD. Transfection mixtures contained 500 ng TPUF DNA constructs or 350 ng pmaxGFP (Lonza) and 150 ng pCMV5. The cells were induced 24 h after transfection with 500 μM CoCl2, and the supernatant was collected for assay 24 hours after induction. For gene-switch-induced VEGFA, HEK293 cell line with retrovirally integrated DHB-inducible V24P-GS60 transcription activator was used [40]. The cells were transfected in a 24-well plate format in triplicates as above. The cells were induced 24 h after transfection with 100 nM DHB, in the presence of pen/strep (Gibco). The supernatant was collected 24 h after induction and subjected to ELISA. The assay was performed by pre-coating the 96-well clear plate with a goat anti-mouse antibody (Thermo Scientific) at 4°C overnight, and then following the instructions of human VEGF DuoSet kit (R & D Systems). The absorption readings were taken on a SpectraMax 340PC microplate reader. The cell monolayer was saved for Bradford assay.
Bradford assay
The cell monolayers were lysed using RIPA lysis buffer. The protein concentrations were measured in technical duplicates by mixing 4 μl of cell lysate with 295 μl of Coomassie Plus Protein Assay Reagent (Thermo Scientific) in a 96-well clear plate. Quick Start Bovine Serum Albumine Standard Set (Bio-Rad) was used to build a protein standard curve. A595 was measured 5 min later using a SpectraMax 340PC microplate reader. The total protein concentrations measured by Bradford assay were used to normalize the VEGF concentrations.
Western blotting
V24P-GS60-integrated 293 cells as well as HeLa cells were transfected in a 6-well plate format with Fugene-HD and 3 μg of effector plasmid. Cells were lysed using RIPA lysis buffer (Santa Cruz Biotech). The proteins were detected using mouse anti-Flag and anti-α-tubulin antibodies (GeneScript) and imaged using SuperSignal West Dura chemiluminescent substrate (Thermo Scientific).
Abbreviations
PUF:

Pumilio/fem-3 mRNA binding factor
RBP:

RNA-binding protein
PUM-HD:

Pumilio homology domain
PUM1:

Pumilio 1
GG:

Golden Gate
TTP:

tristetraprolin
ARE:

AU-rich element
PBS:

PUF-binding site
TPUF:

TTP (C147R)-PUM-HD
FL:

firefly luciferase
RL:

Renilla luciferase
VEGFA:

vascular endothelial growth factor-A
DHB:

4,4′-dihydroxybenzyl
GA:

Gibson Assembly.
Declarations
Acknowledgements
We thank Dr. Chen Zhang and Dr. Chengjian Mao (University of Illinois) for discussions, Jing Liang and Ryan E. Cobb for manuscript revision and editing, Ran Chao for automating PBS primer design, Stella Xinzi Wu for her help with cell culture, Dr. Traci M.T. Hall (NIEHS, NIH), Dr. David Shapiro (UIUC), and Dr. David Russel (UTSW) for plasmids. This work was supported by the Centennial Chair Professorship in the Department of Chemical and Biomolecular Engineering at the University of Illinois at Urbana-Champaign.
Authors' Affiliations
(1)
Department of Biochemistry, University of Illinois at Urbana-Champaign, Urbana, USA
(2)
Department of Chemical and Biomolecular Engineering, University of Illinois at Urbana-Champaign, Urbana, USA
(3)
Department of Bioengineering, Department of Chemistry, Center for Biophysics and Computational Biology, and Institute for Genomic Biology, University of Illinois at Urbana-Champaign, Urbana, USA
Copyright
© Abil et al.; licensee BioMed Central Ltd. 2014
This article is published under license to BioMed Central Ltd. This is an Open Access article distributed under the terms of the Creative Commons Attribution License (http://creativecommons.org/licenses/by/2.0), which permits unrestricted use, distribution, and reproduction in any medium, provided the original work is properly credited. The Creative Commons Public Domain Dedication waiver (http://creativecommons.org/publicdomain/zero/1.0/) applies to the data made available in this article, unless otherwise stated.