The extracellular microscape governs mesenchymal stem cell fate
Journal of Biological Engineering
2016
10:16
Received: 6 July 2016
Accepted: 9 November 2016
Published: 21 November 2016
Abstract
Each cell forever interacts with its extracellular matrix (ECM); a stem cell relies on this interaction to guide differentiation. The stiffness, nanotopography, protein composition, stress and strain inherent to any given ECM influences stem cell lineage commitment. This interaction is dynamic, multidimensional and reciprocally evolving through time, and from this concerted exchange the macroscopic tissues that comprise living organisms are formed. Mesenchymal stem cells can give rise to bone, cartilage, tendon and muscle; thus attempts to manipulate their differentiation must heed the physical properties of incredibly complex native microenvironments to realize regenerative goals.
Keyword
Extracellular matrixMechanotransductionAdhesionStem cell differentiation
Background
Stem cell fate was long assumed to rely solely on biochemical messengers, yet the story of cellular differentiation is now proving much more intricate than initially theorized. As early as 1898 Councilman described cellular chemotaxis in the setting of acute interstitial nephritis and postulated that soluble substances in certain locations were responsible for the development of lymphoid foci [1]. Later studies in the 1970's identified biochemical factors responsible for cellular migration in cancer models [2], and further research in the following decade described the molecular signals necessary for the induction of differentiation in T cells and glial progenitors, respectively [3, 4]. Still later studies demonstrated the powerful capacity of a biologically-inspired chemical signal gradient to induce cellular migration and differentiation [5–7]. Because of this pattern of accumulated knowledge, the potential for biochemical signals to induce stem cell migration, differentiation and proliferation has been appreciated for many years and early intimations regarding mechanically-directed behaviour drew less notice [8].
Although historically less recognized, clues to the importance of physical properties in tissue development are ubiquitous in nature. Life uses malleable muscles to lever tendons across rigid joints, it creates discreet neuromuscular junctions from tissues with markedly different physical properties and it protects an intricate, delicate neural apparatus with rigid bony structure. But perhaps most relevant to regenerative medicine, pathophysiological states are often defined by an altered mechanical microenvironment. Gliosis following a cerebrovascular insult, fibrosis after a myocardial infarction and collagen deposition after epithelial disruption all forever alter the mechanical microenvironment experienced by individual cells resident to those tissues [9]. This shifting mechanical microscape makes it all the more necessary for therapies intent on rectifying pathology to prepare for the inductive properties inherent to the pathophysiological environments they will encounter.
Specifically, the elasticity [10–13], nanotopography [14, 15], protein composition [16, 17], and mechanical strain [18] inherent to the extracellular matrix (ECM) are all independent factors guiding stem cell lineage commitment. Even more fascinating is recent work suggesting stem cells retain mechanical memory for surfaces previously encountered [19]. This has striking implications not only for the inherent validity of the conclusions drawn from studies using in vitro models, but on the understanding of the in vivo temporal changes potentially implicit in aging. Understanding and deconstructing this complex menu of signals is core among the current challenges faced by regenerative medicine as each ECM inflicts a specific array of stressors on its resident cells. Factors such as cell density, shape and size [20–22], as well as the degree and type of cell-cell interaction and the dimensionality experienced within each tissue further complicate attempts to recapitulate these environments ex vivo.
The implications for understanding the interaction between cells and their respective ECMs are critical and far-reaching. The hopeful search for panacea in many medical fields has focused significant energy on stem cell therapy; from basic science to randomized clinical trials [23–25]. While seemingly safe in their application [26], medicine is marginally closer to sound and applicable stem cell therapies in regenerative medicine [27, 28]. There are of course many reasons this large cumulative effort has progressed slowly toward clinical resolution. In part, bureaucratic engines always run slower than scientific minds and funding for clinical trials in this field is doubly wrought with financial and political mines [29]. The emergent and rapidly expanding use of adult stem cell sources has softened some of the political stigma attached to the prefix 'embryo'. Still, our lack of understanding and our inability to control all biochemical and biomechanical inputs that direct stem cell fate is certainly rate-limiting. The global sum of all signals encountered by a differentiating cell, whether chemical or physical, past or present, act as one unique set of circumstances directing the commitment of each cell toward a specific lineage [30]. Nature has replicated these exquisite circumstances with innumerable diversity for millennia; proof that such discretion is possible.
Mesenchymal stem cells (MSCs) are easily accessible progenitors that can give rise to fat, muscle, tendon, cartilage and bone [31, 32]. The promise of a tool to combat some of the most burdensome human pathologies, including myocardial infarction, osteoporosis and osteoarthritis, makes this stem cell source particularly appealing to biomedical engineers [33]. The future of medicine for an aging population may well depend on our ability to understand and control those slow and seemingly inevitable processes that alter physical structures. This review explores the guiding role of the ECM in MSC differentiation and discusses attempts to deconstruct and translate these ECM component signals for tissue engineering in the search for regenerative therapies.
Rebuilding the native microenvironment
Tissue engineering is now faced with the challenge of how to most accurately and reliably reproduce and modulate each individual physical factor and then combine them into one cohesive environment. The enormity of this task is immediately realized when, for example, we attempt to faithfully reconstruct the physical changes wrought by myocardial infarction and seed those environments with adipose-derived stem cells. Discrete stiffness changes (Fig.
3a
) coupled to an actively beating bioreactor (Fig.
3b
) must be platformed on multiple gradients of stiffness, nanotopography and protein composition (Fig.
3c
) in both two and three dimensions. The shear complexity of this deconstructive approach therefore also demands the exploration of endogenous ECMs to satisfy this same purpose. Indeed, recent studies have shown that the matrix laid down by bone marrow- or adipose-derived stem cells promotes the growth of those cell lines more so than other cell types, even after decellularization and reseeding. To this end, the induction of small, high frequency deformations in osteogenic cultures can elicit more efficient production of ECM for MSC differentiation [
81
]. Further, these biologically synthesized matrices promote differentiation to the lineages that originally laid them down [
82
]. Even artificial three-dimensionally-printed scaffolds seeded with differentiated cells of a specific tissue (which are subsequently removed) for the sole purpose of decorating that artificial matrix with biological ECM, create more effective inductive matrices for MSCs [
83
,
84
]. An artificial collagen-polyglyconate scaffold seeded with smooth muscle and urothelial cells has generated bladder tissue sufficient for transplantation [
27
] and decellularized trachea has been recolonized by recipient epithelial cells after implantation [
28
]. Additional recommended reviews in this field further explore the use of decellularized or naturally-derived ECMs [
85
–
88
]. While the collaborative regenerative power of resident cells in native environments is clear, this research affirms the idea that 3D printing with intricately designed biocompatible materials may offer promising solutions as these technologies converge upon common applications [
57
].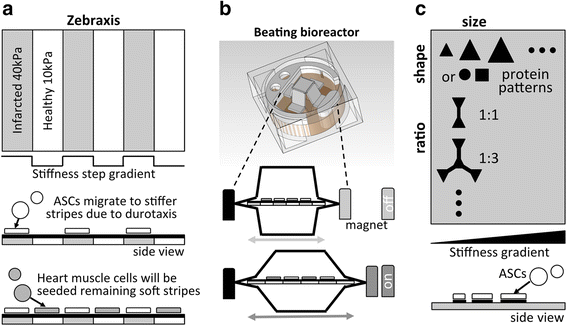 Conclusions
Clearly the physical environment experienced by a resident mesenchymal stem cell through its ECM has much to say regarding the ultimate fate of that cell. Absolute stiffness (as well as patho- or physiological gradients in ECM stiffness) guides development and dictates response to a disease insult. Nanotopography can blur the boundary between geography and the physical forces imposed by that microenvironment, and ligand density can similarly blend biochemical signals with biomechanical ones. Stress and strain experienced cyclically (heart), sporadically (tendon) or constantly (bone) inform the modelling, alignment and economy of materials in those respective tissues. Further, all of these ECM components evolve through time and are reciprocal in their interaction with resident cells: osteoblasts can form matrix that stiffens their environment leading to further osteogenic differentiation; the formation of functional myotubes leads to concerted beating that exacerbates the cyclical stress imposed on that tissue; native alignment of tendon tissue informs future recruits to that tissue as to the appropriate function therein; and the decoration and incorporation of growth signals in developing bone ensures signals for future bone regeneration [98].
Effective regenerative medicine requires exquisite models of the ECM; models that account for the infinitesimal fractional inputs accumulated across billions of years of life interacting with its environment. The ruthless economy of evolution demands that whether biochemical or mechanical, past or present, static or dynamic, no force or dimension or bond is unnecessary. Thus tissue engineering is proving complex beyond imagination, but its stated goals are not unattainable.
Declarations
Acknowledgements
Not applicable.
Funding
This work is supported by the University of Sydney Medical School Dean's Award (to W.J.H), National Health and Medical Research Council (PG1098449 to YS.C), Heart Research Australia (2014–07 to YS.C), Mill House Foundation Grant (to YS.C) and the Sydney Medical School Early Career Researcher Grant (to YS.C).
Availability of data and materials
Not applicable.
Authors' contributions
W.J.H and YS.C drafted the manuscript. Both authors read and approved the final manuscript.
Competing interests
The authors declare that they have no competing interests.
Consent for publication
Not applicable.
Ethics approval and consent to participate
Not applicable.
Open AccessThis article is distributed under the terms of the Creative Commons Attribution 4.0 International License (http://creativecommons.org/licenses/by/4.0/), which permits unrestricted use, distribution, and reproduction in any medium, provided you give appropriate credit to the original author(s) and the source, provide a link to the Creative Commons license, and indicate if changes were made. The Creative Commons Public Domain Dedication waiver (http://creativecommons.org/publicdomain/zero/1.0/) applies to the data made available in this article, unless otherwise stated.
Authors' Affiliations
(1)
University of Sydney Medical School & Kolling Institute of Medical Research, Sydney, Australia
(2)
School of Anatomy, Physiology and Human Biology, University of Western Australia, Crawley, Australia