A standard vector for the chromosomal integration and characterization of BioBrick™ parts in Escherichia coli
Journal of Biological Engineering
2013
7:12
Received: 7 November 2012
Accepted: 18 April 2013
Published: 10 May 2013
Abstract
Background
The chromosomal integration of biological parts in the host genome enables the engineering of plasmid-free stable strains with single-copy insertions of the desired gene networks. Although different integrative vectors were proposed, no standard pre-assembled genetic tool is available to carry out this task. Synthetic biology concepts can contribute to the development of standardized and user friendly solutions to easily produce engineered strains and to rapidly characterize the desired genetic parts in single-copy context.
Results
In this work we report the design of a novel integrative vector that allows the genomic integration of biological parts compatible with the RFC10, RFC23 and RFC12 BioBrick™ standards in Escherichia coli. It can also be specialized by using BioBrick™ parts to target the desired integration site in the host genome. The usefulness of this vector has been demonstrated by integrating a set of BioBrick™ devices in two different loci of the E. coli chromosome and by characterizing their activity in single-copy. Construct stability has also been evaluated and compared with plasmid-borne solutions.
Conclusions
Physical modularity of biological parts has been successfully applied to construct a ready-to-engineer BioBrick™ vector, suitable for a stable chromosomal insertion of standard parts via the desired recombination method, i.e. the bacteriophage integration mechanism or homologous recombination. In contrast with previously proposed solutions, it is a pre-assembled vector containing properly-placed restriction sites for the direct transfer of various formats of BioBrick™ parts. This vector can facilitate the characterization of parts avoiding copy number artefacts and the construction of antibiotic resistance-free engineered microbes, suitable for industrial use.
Keywords
Integrative VectorHelper PlasmidCopy Number ConditionGenetic CircuitAntibiotic Resistance Marker
Background
Plasmids are extensively used tools to generate genetically engineered microbes for the expression of recombinant proteins or complex genetic circuits [
1
–
4
]. Even if they are very easy to manipulate and incorporate in the desired host, many disadvantages affect their use in both industrial applications and research studies. Common plasmids require the selective pressure of an antibiotic to be maintained in cells, which is costly for industrial scale recombinant protein production [
5
]. The spreading of antibiotics and resistance markers is also potentially unsafe for the environment [
5
] and some (e.g., ampicillin) should be avoided in therapeutic protein production because of the potential for human allergic reactions [
6
]. Selection systems without antibiotics are available, but they require mutant host strains, specific growth media or expensive reagents and in some cases they show low efficiency [
5
,
7
]. Plasmids are often replicated in multiple copy in the host cell, which enables the industrial production of a large amount of protein [
6
]. However, plasmid-free strains with the desired recombinant genes in single copy are required in many studies, e.g., to investigate the effect of these genes in normal physiological conditions, thus avoiding copy-number artefacts [
8
]. Genome integration can provide the stable insertion of the desired genes in the host chromosome without the need of any antibiotic or resistance marker. Several tools for
Escherichia coli
have been proposed which exploit homologous or site-specific recombination. Homologous recombination can be used to insert the desired DNA fragment (here called
passenger
) into a specific genomic locus that must show sufficient sequence homology with a second DNA fragment (here called
guide
) used to target the locus [
9
]. This technology can also be used for gene knockout and mutation of native genes [
10
]. Integrative plasmids (that perform single- or double-crossover) [
11
], linear PCR fragments [
12
] and also single-stranded DNA [
13
] perform the described tasks by means of unspecific endogenous or heterologous protein machinery (e.g., the λRed system [
12
,
13
]). On the other hand, site-specific recombination uses genome insertion of bacteriophages in the host chromosome through the phage attachment site (attP) and the bacterial attachment site (attB) sequences [
14
]. This mechanism has been exploited to develop integrative vectors carrying the attP site (guide) and the passenger [
15
]. The gene expression machinery that mediates homologous or site-specific recombination can be placed on an easily curable
helper
plasmid transformed in the host strain [
9
,
15
]. Figure 
1
illustrates how homologous recombination (with a single-crossover event) and site-specific recombination work.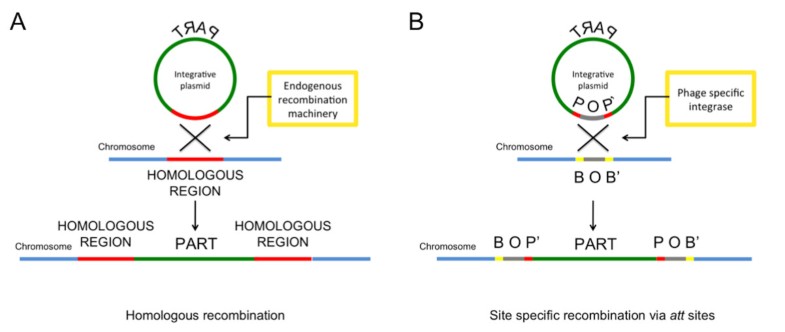 Generally, integrant clones are selected with an antibiotic resistance marker. This marker can be removed by exploiting FRT sites: by flanking a sequence with FRT sites, it can be targeted for excision through the yeast Flp recombinase. Helper plasmids expressing the Flp recombinase have also been constructed [16].
Integrative plasmids must be easily amplified in vivo, and clones with a successful integration must be easily selected. To this aim, conditional-replication origins are exploited. They support plasmid replication only in specific conditions, like a specific strain or a temperature range, while the plasmid becomes non-replicative otherwise [10].
For example, the R6K replication origin can be used to propagate integrative plasmids only when the pir or pir-116 gene is present in the host strain [15].
Recent advances in the field of synthetic biology include the standardization of biological parts to facilitate the assembly of genetic circuits [17]. BioBrick™ parts in the Registry of Standard Biological Parts are a rapidly-growing collection of DNA parts that conform to a specific physical standard [18]. BioBrick™-compatible genetic circuits can be easily incorporated in a microbial host through ad-hoc constructed BioBrick™ plasmids [19]. Although the construction of integrative systems by using BioBrick™ parts has been reported [20], no standard and ready-to-use solution is available to produce engineered strains with BioBrick™ parts via chromosomal integration. In fact, current tools for site-directed genome integration via integrative vectors include either non-BioBrick™ plasmid vectors with specific, non-customizable DNA guide [15] or BioBrick™-compatible parts [20] that can be used to compose integrative vectors via a standard assembly procedure, but a pre-assembled ready-to-use solution is not available.
In this work, we report the design of a BioBrick™-compatible integrative vector that allows the genomic integration of BioBrick™ parts and can also be specialized to target the desired integration site in the host genome by using BioBrick™ parts. We also demonstrate the usefulness of the designed tool by providing data on the modularity of promoters when characterized in a single-copy context and on plasmids.
Conclusions
Several methods have been proposed to target the desired genetic construct into a specific chromosomal locus [27] or even randomly in the genome [28]. Many studies also focused on single-copy integrants generation [15], on the elimination of antibiotic resistance [12, 28] or on the copy number amplification of the integrated device [29, 30].
Although several genetic tools have been proposed in literature to perform the tasks described above, no plasmid-based standard tools are available to rapidly construct a ready-to-integrate genetic system.
This work describes a BioBrick™ integrative base vector for E. coli. Its standard physical interface allows the assembly of the desired parts as passenger or integration guide, both in BioBrick™ format. This vector is desirable to rapidly disclose, via quantitative characterization, if the parts under investigation are suitable in the genomic context and, if required, in single-copy.
The design of this vector was inspired by previous works. In particular, Shetty et al. [19] conceived a BioBrick™ base vector that could be specialized to construct BioBrick™-compatible vector backbones by using BioBrick™ parts as well. For example, vectors with different replication origins or antibiotic resistance markers could be easily assembled from a standard ancestor. Before the work of Shetty et al., the construction of vector backbones required specific genetic manipulations whose knowledge is normally owned by experts. On the other hand, Anderson et al. [20] used BioBrick™ parts to construct different integrative vectors to produce methylase-expressing stable strains without antibiotic resistance marker.
Our work merges such concepts by providing a ready-to-engineer base vector containing all the required features for integration (i.e., a conditional replication origin and an antibiotic resistance marker), marker excision (i.e., FRT sites flanking antibiotic marker and conditional origin), assembly of BioBrick™ parts as passenger (i.e., BioBrick™ Prefix and Suffix) or guide (i.e., NheI sites flanking the default guide). The structure of the vector enables the integration of parts properly isolated from the genomic context. In this way, all the integrated sequences have the same upstream and downstream sequences.
Whatever the integration procedure is, the compatibility of the vector with the target chassis always has to be verified: the presence of the integration locus and, when using site-specific recombination, the absence of prophages in the attB locus must be evaluated according to the declared genotype, genomic databases or by PCR.
While our aim was to provide a physical support to standardize the integrative vector construction that can be used with the desired integration procedure (site specific or homologous recombination by single crossover), this work is not intended to contribute novel integration protocols or methodologies that improve its efficiency. In fact, the efficiency depends on the specific guide, passenger and protocol used. For example, in this work the Ф80 site-specific recombination had a very high success rate while the aspA homologous recombination showed a lower efficiency (see Additional file 1: Additional information about integrative vector efficiency).
A set of BioBrick™ devices, including widely used constitutive promoters assembled with an RFP measurement system, were used as passengers in most of the integration experiments. The behaviour of these devices was quantitatively characterized in single copy in two different loci and in a low copy plasmid. The measured promoter activities were consistent with previous works [22, 25]. Given a promoter, its relative activity was comparable among the tested contexts, with a maximum CV of 31% (PlacIQ promoter). Although the different sequence between the upstream regions in the single- and low-copy contexts could be responsible of this activity variation in the case of PlacIQ, the sequence difference could not explain all the observed variability among the contexts. The detected variability entity was consistent with our previous studies on context-dependent variability of these promoters when tested via different measurement systems or when assembled in different genetic circuits [22].
The absolute activity of each integrated promoter was also compared in the two chromosomal positions. Results highlighted a promoter activity difference between the aspA and the Ф80 loci, even if only two of the five promoters showed a statistically significant difference. Although a detailed investigation of such effects is beyond the scope of this work, these results demonstrated the importance of quantitative characterization of parts in different genomic contexts for the predictable design of genetic functions.
Finally, the stability of these integrated BioBrick™ devices has been evaluated via population-based assays and via variability analysis of individual clones. These experiments demonstrated that many integrated strains had comparable stability with plasmid-based ones, even though a small subset of evolved integrated strains showed activity loss. Analysis of the activity of individual clones at generation 0 and 150 showed that variability between the two generations was similar and that integrated strains had higher variability when compared to plasmid-bearing strains. As the used parts were not toxic or hard-to-express parts for the chassis, these stability experiments only represented a proof-of-concept, while the stability of parts has to be tested for each desired construct in the future and it could be dependent on the integration site, DNA sequence, host organism, metabolic burden and/or specific function implemented by the integrated device.
Declarations
Acknowledgements
The authors thank the anonymous reviewers and the editor for their useful suggestions. We thank Dr. J.C. Anderson (UC Berkeley) for the pInt80-649 helper plasmid. We thank Michela Casanova for help during quantitative experiments. We also thank Matteo Meroso, Giacomo Zambianchi and the UNIPV-Pavia iGEM 2010 Team for preliminary experiments and helpful discussions. This project was partially funded by the Italian Ministero dell'Universita' e della Ricerca through the FIRB ITALBIONET project.
Authors' Affiliations
(1)
Dipartimento di Ingegneria Industriale e dell'Informazione, Università degli Studi di Pavia, Pavia, Italy
(2)
Centro di Ingegneria Tissutale, Università degli Studi di Pavia, Pavia, Italy
Copyright
© Zucca et al.; licensee BioMed Central Ltd. 2013
This article is published under license to BioMed Central Ltd. This is an Open Access article distributed under the terms of the Creative Commons Attribution License (http://creativecommons.org/licenses/by/2.0), which permits unrestricted use, distribution, and reproduction in any medium, provided the original work is properly cited.