Immunological challenges associated with artificial skin grafts: available solutions and stem cells in future design of synthetic skin
Journal of Biological Engineering
2017
11:49
Received: 11 April 2017
Accepted: 17 November 2017
Published: 13 December 2017
Abstract
The repair or replacement of damaged skins is still an important, challenging public health problem. Immune acceptance and long-term survival of skin grafts represent the major problem to overcome in grafting given that in most situations autografts cannot be used. The emergence of artificial skin substitutes provides alternative treatment with the capacity to reduce the dependency on the increasing demand of cadaver skin grafts. Over the years, considerable research efforts have focused on strategies for skin repair or permanent skin graft transplantations. Available skin substitutes include pre- or post-transplantation treatments of donor cells, stem cell-based therapies, and skin equivalents composed of bio-engineered acellular or cellular skin substitutes. However, skin substitutes are still prone to immunological rejection, and as such, there is currently no skin substitute available to overcome this phenomenon. This review focuses on the mechanisms of skin rejection and tolerance induction and outlines in detail current available strategies and alternatives that may allow achieving full-thickness skin replacement and repair.
Keywords
Skin allograftImmune rejectionBiomaterialScaffoldsStem cellsSkin tissue engineeringSkin substitutes
Background
The skin, a subcomponent of the integumentary system, is a substantial fast-growing organ comprised of the epidermis, dermis and hypodermis layers, which in adults weighs about 7–8 pounds, covering 21–22 square feet of surface area (2-m square). The skin is a protective barrier for toxins, micro-organisms, radiation, and mechanical impacts along with regulating several physiological functions including temperature control, preventing dehydration and providing sensory detection and immune surveillance [1, 2]. Human skin frequently is damaged/injured resulting in the loss of its integrity and physiological balance, which may result in significant disability and infections. The skin's natural restorative capacity usually is sufficient to repair and heal itself when damaged/injured [3]. However, skin grafts are required for severe skin injuries to protect the exposed layers of skin and allow the damaged portion to reform. Transplanting autologous skin grafts [4, 5] is the therapeutic approach of choice that successively reform the skin, but extensive injuries and chronic skin wounds could result in an insufficient number of autografts, especially in severe burn cases [6] and skin morbidities [7, 8]. When required, in such cases, either allogeneic or xenogeneic, skin grafts are used for transplantation. Despite allogeneic transplantations becoming more tolerant with immunosuppressive treatment, there are still some issues with early rejection. Skin allograft rejection is the recipient's immune response following the recognition of alloantigens leading to the cellular destruction. Allogeneic or xenogeneic skin grafts may be employed but their short-term graft survival time limits their clinical use [9]. Skin allografts transplantation is employed for severe clinical cases to protect the damaged skin areas, but considering the conundrum of the rejection mechanism, the recipient may require additional transplantation from a different donor [10]. Alternative strategies are now being developed to overcome skin allograft rejections and allowing adequate skin repair [11, 12]. Novel treatment approaches include the use of stem cell-based therapies, specific immunosuppressive therapies targeting T cells or donor immune cells and skin tissue engineering. Several tissue-engineered skin substitutes are commercially available and used in clinical settings with negligible risk of immunogenic responses such as the Integra dermal regeneration template [13]. Available engineered skin substitutes are composed of either a cellular or acellular component and a biological (autologous, allogeneic, and xenogeneic) or synthetic (polymer) scaffold [14]. However, available skin alternatives engineered to mimic natural skin still do not provide a permanent solution [5, 14, 15]. This review gives an insight into different approaches and innovative advances to allow overcoming skin allografts rejection.
Immunological rejection
Mechanisms of skin graft rejection
Allografts have been used for many years in transplantation; however, donor tissue availability remains a critical issue. Cadaver tissues, especially organs, are in high demand and harvesting of skin has to be completed rapidly [16] post-death and preserved [17]. Critical issues associated with allografts are availability and rejection. Laboratory-grown artificial tissues are now in development to help overcome the immunological rejection issues [18, 19]. Over the years, synthetic skins comprised mostly of human cell lines with biodegradable materials have been used for transplantation onto burned and wounded skin patients [20, 21]. Even though the artificial skin products are in development and available commercially, they are still prone to rejections [7].
Skin autografts transplantation is a well-known medical procedure. Grafting between genetically identical individuals (syngeneic graft) can be successful without a prolonged immunosuppressive treatment. Even though immunosuppressive treatments for organ transplantation are effective in preventing early rejection, skin tissues whether from both donor or engineered are continuously failing [22]. Skin graft successfully placed at the donor site but rejected within 1–2 weeks is consistent and is termed first set rejection. The second set of rejection is even faster if grafted from the same donor. Graft rejection is an intricate mechanism, which involves an array of processes and ultimately potent inflammatory responses initiated by innate immune responses and destruction of the donor tissue [23]. The rate of rejection of donor tissue at the recipient's graft site is dependent on the graft volume and antigens incompatibilities between both. The role of T lymphocytes in graft rejection is vital as evidenced from studies in nude mice, which do not reject allogeneic skin grafts because they lack CD4+ and CD8+ functionality [24]; however restoring this functionality with adoptive transfer of normal T cells initiates rejection of the skin graft [25, 26]. Therefore, a hurdle in allogeneic skin grafting is the triggering of CD4+ and CD8+ T cells immune responses, sometimes involving both for first set rejection, although second set rejection could be facilitated by antibodies [26].
The mechanism of skin graft rejection (Fig.
1
) starts with responses from dendritic cells (DCs), macrophages, polymorphonuclear cells, angiogenic mediators, and cytokines to promote rejection [
22
,
23
], followed subsequently by the activation of T cells (CD4+ and CD8+). Further, accumulation of inflammatory cytokines and effector T cells permeate the skin graft to commence rejection [
22
,
26
,
27
]. The event/stimulus that triggers skin graft rejection arises from a mismatch in donor MHC and recipient T cells receptors (TCRs) [
28
]. Even though matching the MHC type is critical in avoiding skin grafts rejection, a single genetic difference at the loci of MHC molecules can still commence the rejection process by stimulating alloreactive T cells [
10
]. Additionally, even if the rejection rate is not very high in genetically related donor and recipient [
29
], it can be controlled by immunosuppressive drugs. The only scenario where allograft transplantation without immunosuppressive drugs is successful when the donor and recipient are identical twins, with true human leukocyte antigen (HLA) match [
30
], which shows the immunological importance of MHC molecules in rejection of transplants. Thus matching the HLA types [
31
] between non-identical twins improves the rate of graft transplantation, but HLA typing methods are not precise due to complexity and polymorphism of MHC molecules [
32
]. Another reason is differences in minor histocompatibility antigens (MHA) that also vary in individuals for HLA type matching, which is a consideration in assessing graft rejection [
33
].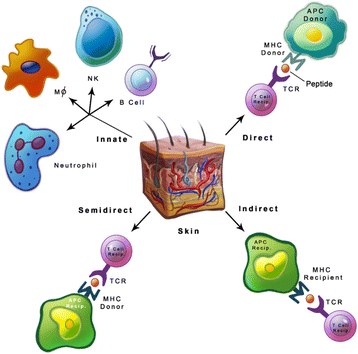 Most allografts require MHC class matching for allogeneic transplantation, and the primary reason for a rejection response against foreign MHC molecules is TCRs specificity. Foreign MHC antigen recognition between both the recipient and donor tissues initiates the rejection process at the graft site. The repercussion of allorejection is the initiation of adaptive immune responses especially with alloreactive T cells [22]. The allorecognition mechanism for skin grafts is distinguishable from other tissue transplantations. Apparently, skin graft rejection is potentially a much broader response generated to destroy the donor skin graft. The demonstration on corneal transplant rejection in mice indicates that only the CD4+ indirect pathway involving minor antigens leads to rejection. The CD8+ T cells pathway has limited functionality but no cytotoxicity [34].
Dendritic cells from donor grafts also have a crucial function in initiating the rejection process by their migration [35] into the donor's lymphoid organs for antigen presentation to initiate the adaptive immune response [36]. The adaptive alloimmune response from DCs is attributed to Langerhans cells (LCs) from the epidermis and dermis. Langerhans cells are distributed in the epidermis and contribute up to 3% in epidermal cells [22]; they express CD1a in humans and have the capability of microbial lipid antigen presentation to T cells [37].
Adaptive immunity in allorejection
Innate immunity in allorejection
Components of innate immunity that participate in allorejection include natural killer (NK) cells, macrophages, monocytes, and neutrophils (Fig. 1). Natural killer cells specialize in killing target and apparently participate in indirect allorecognition of the allograft by activating CD4+ T cells [62]. Depletion of NK cells improved the rate of cardiac allograft [63] acceptance and extended the survival of corneal allografts [64], while functional NK cells were found to assist the CD4 mediated allograft rejection [65]. However, responses elicited by NK cells alone are insufficient for skin allograft rejection [66, 67]. Results from an in vivo study using T and B cells deficient, but IL-15 producing NK cells in mice revealed acute skin allograft rejections [68]. IL-15 is required for memory T cells survival and development, but not induction of memory phenotypes [67]. Natural killer cells reportedly participate in both tolerance [69] and rejection [70] of allografts. The participatory role of NK cells in allograft tolerance is further substantiated by their destruction of donor APCs [68], secretion of IL-10 [69] and arrest of CD8+ memory T cells proliferation [71]. Macrophages do not play a direct role in allorejection since they are not efficient in priming naïve T cells [72, 73]. Macrophages are heterogeneous depending on their functions and are in large numbers in human allotransplants. In general, macrophage activation follows the classically activated M1 and alternatively activated M2 phenotypes. M1 macrophages are activated by Th1 secreted cytokines, i.e., IFN-γ and TNF-α [22, 73, 74]. M2 macrophages are induced by IL-4 produced by Th2-activated T cells as well as basophils and mast cells in response to injuries [75]. Macrophages are frequently observed in acute rejections, which may indicate their defensive functions in necrosis and pro-inflammatory cytokines secretion.
Neutrophils participate in allograft rejection by secreting chemokines thus leading to T cells activation and proliferative responses [71]. The role of innate immunity elements in immunological rejection of allografts is not highly evident. However, support of adaptive immune responses via innate immunity cells may be a more logical explanation since they are rapid responders against foreign molecules. Overall, the process of allograft rejection is by the direct, indirect and semi-direct pathways, but innate immunity components may participate along with adaptive immune responses to boost the allograft rejection process.
Approaches to avoid skin immune rejection
Therapies to escape skin rejection
The use of skin autographs is the most efficient method and the treatment of choice to avoid immunogenicity in reconstructive skin transplantation. However, there are limitations in using skin autografts for patients with deep and/or large wounds or with extensive burns [76, 77]. In such circumstances, transplantation of split-thickness skin allotransplants or full-thickness skin from live donors or in the form of cadaveric skin provides a replacement that reforms the functional skin [22, 76]. Nonetheless, there are limitations to the use of allogeneic skin grafts since invariably they are rejected due to the triggering of the host immune response that subsequently leads to their short-life span [22, 76, 78]. Furthermore, efficacious immunosuppressive treatments usually used in organ transplants to prevent early rejection are either less or/not effective in skin transplantation [77]. Treatment of skin allografts before operation allows decreasing the immunogenicity, but it is insufficient over the long-term [78]. Newer treatment procedures have thus been developed to overcome skin grafts rejection to prolong skin graft survival.
Immune response to bioengineered skins
The implantation of bioengineered skins elicits a series of host immune reactions, first towards the cellular component and further to the biomaterial component [133]. However, there is lack of reported studies regarding the host immune responses to biologic scaffold materials, and those available studies mostly evaluate the inflammation response. The biomaterial implantation initiates inflammation responses through a series of events, collectively known as foreign body response starting with proteins adsorption from the ECM on the biomaterial surface followed by the attraction, adhesion, and activation of phagocytes such as monocytes and/or macrophages in the implant site [133–135]. Phagocytic cells might also be attracted to the inflammatory site by molecular patterns that mimic pathogen-associated molecular patterns (PAMPs) that may be on the biomaterial, through innate receptors or the recognition of proteins adsorbed to the biomaterial by APCs [134]. Activated macrophages then secrete a wide range of cytokines (i.e., IL-1, IL-6, IL-10, TGF-β), chemokines (IL-8, MCP-1, and MIP1-α/β), growth factors and ECM enzymes [135, 136]. Depending on the biomaterial and cellular component in the bioengineered skin, these mediators could direct the skin tissue repair and inflammatory response to the biomaterial or mediate other variable responses including the migration and proliferation of fibroblasts and skin tissue regeneration [133, 135, 137].
Moreover, surface contact of complement proteins with biomaterials and the adsorbed protein layer triggers the complement cascade that leads to the activation of inflammatory cells, which subsequently mediate other processes, including maintenance of inflammation, activation, and initiation of tissue repair or promotion of T and B cells development [133, 136]. Hence, selection of biomaterials for bioengineering of artificial skin tissues depends, in addition to addressing functional skin requirements, on the potential host responses towards them. However, although biomaterials can cause inflammation, they contribute minimally to transplant rejection [133, 135]. Furthermore, the elimination or inactivation of cellular elements that lead to immunogenic responses from the matrix scaffold (i.e., cells and cellular antigens) allows the artificial skin to exhibit minimum early rejection and not to cause a chronic rejection reaction after implantation [105, 138].
Skin substitutes with natural biomaterials
Naturally occurring biomaterials capable of reproducing the micro-architecture and physiological functionality of the ECM are more widely used in designing skin substitutes, and they include fibronectin, collagen, chitosan, hyaluronan, and glycosaminoglycans (GAGs) [121]. Their main advantages reside in their inherent properties of biological recognition, low antigenicity, biodegradability, low toxicity and low chronic inflammatory responses [125, 139–141].
Conclusion
Skin graft rejection remains an important challenge in regenerative medicine. The rejection process occurs by activation of T cells by way of the direct, indirect or semi-direct alloantigen recognition pathways, as well as the active participation of accessory B and NK cells that destroy donor cells. Several attempts of inducing tolerance and prolonged survival of skin transplants have been made, such as therapies addressing donor-derived DCs and the inactivation or deletion of their reactive T cells. Such strategies have led to remarkable progress in the understanding and control of skin grafts rejection. Nonetheless, despite the progress made on the induction of long-term allografts survival, they have not provided robust tolerance and the skin graft survival achieved is not indefinite. Other alternative strategies have been more successful such as stem cell-based therapies that allow functional repair of skin after severe burn injury. Stem cells therapy holds great promise for bioengineered skin, because of ease of availability for the repair and replacement of damaged skin. Most cellular and acellular skin substitutes currently available on the market help to repair damaged skin by providing protection from infection and aiding in wound healing. Nevertheless, they are unable to provide complete skin functionality as well as sensitivity and thermoregulation capacities. With the discovery of iPSCs, stem cells banking could potentially resolve the issues of graft rejection and provide a viable option for autografts. Alternatively, there is now a significant number of bioengineered skin substitutes used clinically for skin repair or skin replacement therapies. To achieve a definitive regeneration of skin, however, still requires combining two or more procedures. Despite multiple advantages offered with bioengineered skin substitutes, there is no ideally available skin substitute allowing for permanent skin repair that is commercially available. Recent progress, especially in the design of biomaterials for incorporation into skin substitutes coupled with stem cells technology offers hope for more effective approaches in the future.
Abbreviations
3D:

Three dimension
ADSCs:

Adipose tissue derived stem cells
APCs:

Antigen presenting cells
B-cells:

B Lymphocytes
CD4+:

Helper T cell
CD8+:

Cytotoxic T cell
DCs:

Dendritic cells
ECM:

Extra cellular matrix
ESCs:

Embryonic stem cells
HLA:

Human leucocyte antigen
iPSCs:

Induced pluripotent stem cells
LCs:

Langerhans cells
MHC:

Major histocompatibility complex
MSCs:

Mesenchymal stem cells
NK:

Natural killer cells
SCID:

Severe combined immunodeficiency
T cells:

T-Lymphocyte
Th1:

T helper subset 1
Th17:

T helper subset 17
Th2:

T helper subset 2
WJ-MSCs:

Wharton jelly Mesenchymal stem cells
Declarations
Acknowledgments
Special thanks to Yvonne Williams, Lashaundria Lucas and Juwana Smith Henderson from the Center for NanoBiotechnology Research for their excellent administrative assistance. The authors thank Golden muse (http://www.golden-muse.com/) for all illustrations in this review.
Funding
Support for a postdoctoral fellowship to SD, DB and AC was provided by grant from the National Science Foundation NSF-CREST (HRD-1241701) and to RS and ED by the Ph.D. program in Microbiology at Alabama State University.
Availability of data and materials
Data sharing not applicable to this article as no datasets were generated or analysed during the current study.
Authors' contributions
SD, DB, RS, ED and AC, contributed towards the manuscript writing and figures; KV, SKP, SRS and VAD contributed towards the manuscript writing, editing and critical revision. All the authors read and approved the final manuscript.
Ethics approval and consent to participate
Not applicable.
Consent for publication
Not applicable.
Competing interests
The authors declare that they have no competing interests.
Publisher's Note
Springer Nature remains neutral with regard to jurisdictional claims in published maps and institutional affiliations.
Open AccessThis article is distributed under the terms of the Creative Commons Attribution 4.0 International License (http://creativecommons.org/licenses/by/4.0/), which permits unrestricted use, distribution, and reproduction in any medium, provided you give appropriate credit to the original author(s) and the source, provide a link to the Creative Commons license, and indicate if changes were made. The Creative Commons Public Domain Dedication waiver (http://creativecommons.org/publicdomain/zero/1.0/) applies to the data made available in this article, unless otherwise stated.
Authors' Affiliations
(1)
Center for Nanobiotechnology Research and Department of Biological Sciences, Alabama State University, Montgomery, USA
(2)
Immunity, Inflammation, and Disease Laboratory, NIH/NIEHS, Durham, USA