Facing the challenge of sustainable bioenergy production: Could halophytes be part of the solution?
Journal of Biological Engineering
2017
11:27
Received: 17 March 2017
Accepted: 18 June 2017
Published: 1 September 2017
Abstract
Due to steadily growing population and economic transitions in the more populous countries, renewable sources of energy are needed more than ever. Plant biomass as a raw source of bioenergy and biofuel products may meet the demand for sustainable energy; however, such plants typically compete with food crops, which should not be wasted for producing energy and chemicals. Second-generation or advanced biofuels that are based on renewable and non-edible biomass resources are processed to produce cellulosic ethanol, which could be further used for producing energy, but also bio-based chemicals including higher alcohols, organic acids, and bulk chemicals. Halophytes do not compete with conventional crops for arable areas and freshwater resources, since they grow naturally in saline ecosystems, mostly in semi-arid and arid areas. Using halophytes for biofuel production may provide a mid-term economically feasible and environmentally sustainable solution to producing bioenergy, contributing, at the same time, to making saline areas – which have been considered unproductive for a long time – more valuable. This review emphasises on halophyte definition, global distribution, and environmental requirements. It also examines their enzymatic valorization, focusing on salt-tolerant enzymes from halophilic microbial species that may be deployed with greater advantage compared to their conventional mesophilic counterparts for faster degradation of halophyte biomass.
Keywords
BiofuelsBiomassEnzymesLignocelluloseSaline environmentsSaline and sodic soils
Background
Meeting the significant increase in global demand for energy commensurate with the rising population and economic activity represents a major challenge. At current levels of consumption, the world's energy demand will range between 15 and 18 billion tonnes of oil equivalent (TOE) in 2035, representing a 50% increase as compared to 2009 [1]. These estimations of the International Energy Agency (IEA) imply a marked imbalance between the rate of population increase (1.3-fold) and that of energy consumption (2-fold) between 2009 and 2050 [2].
The limited availability of fossil fuels for producing energy, chemicals, and other materials demands technological development to exploit alternative and renewable sources of energy. As alternative and green sources, wind, solar, and geothermal energy have been commanding increasing attention but these resources cannot meet the demand for bulk chemicals and material resources. An additional source of renewable energy is plant biomass [3]. The carbohydrates in plant biomass are versatile, being important not only for the production of bioethanol but, as oligosaccharides, also as therapeutic agents, e.g. cyclodextrins in the pharmaceutical industry and biomedicine [4]. Agricultural residues and plant waste streams that do not serve as feed or food are of commercial and scientific interest as a source of cellulosic ethanol [5]. Conventional crops, besides being part of the above-mentioned competition for land between food and fuel, always use fresh water, which enlarges substantially the water footprint of bioenergy products from plants [6].
The production of biofuels is mainly based on conventional crops such as sugar cane and maize (Zea mays) or on straw. However, sustainable production of bioethanol and biogas from renewable plant resources would globally reduce the dependence of some countries on imported fossil fuels and would have a positive impact on climate change [7]. Starchy biomass (sugar beet and maize, for example) were the first-generation sources of biofuels whereas non-edible lignocellulosic plant material (straw and wood chips, for example) are the predominantly used second-generation sources of biofuels.
Saline areas, generally considered as marginal zones with extremely low productivity, are rich in halophytic vegetation (plants that prefer salt-rich environments), which is able to sustain itself despite high salinity levels. Unlike glycophytes (plants that are affected even by low levels of salinity), halophytes can withstand and even require salinity for optimal growth: this ability or requirement is the result of a complex strategy that integrates different mechanisms at cellular, tissue, and whole-plant levels. Halophytes are useful in many ways: as sources of fibre, oil, and medicines, for landscaping (as ornamental plants), in phytoremediation and medicinal applications, and as oilseed species [8–12]. Although currently halophytes are exploited only on a small scale, their natural habitats occupy relatively large areas throughout the world. Halophytes are becoming increasingly important not only because of the need to avoid the competition for land between food and other uses –– given that fresh water and arable land are in limited supply –– but also because agriculture is being threatened by the steady increase in the extent of saline soils [13]: saline soils cover about 8% of the global land surface, including deserts and salt lakes that are unsuitable for large-scale biomass production.
Areas most suitable for the cultivation of halophytes are semi-arid coastal regions as well as regions where saline water is plentiful either naturally (because of high groundwater levels when the groundwater is saline or brackish) or as a by-product. Introducing halophyte species as new crops that are irrigated with saline water is becoming an increasingly attractive, feasible, and sustainable option for ensuring food security in several salt-affected regions [14, 15]. Consequently, economic utilization of halophytes is receiving increasing attention, especially in arid regions where intensive irrigation or shortage of fresh water forces people to use marginal resources such as brackish underground water [16]. Introducing halophytic plants could be advantageous because they are cheaper to grow and naturally abundant on saline soils and thus do not have any adverse impacts on the human food chain [17]. High-yielding non-food biomass crops are being currently promoted worldwide to meet the increasing demand for energy and to contribute to reducing the emissions of greenhouse gases. Another major advantage of halophytes is their ability to produce satisfactory yields even under adverse conditions as well as to serve as a sustainable and direct source of income for farmers [18]. Most salt-tolerant halophytes accumulate high levels of salt in their shoots. Although such high levels of salt do not impair biomass production [5], they have other undesirable consequences such as slowing down the degradation of biomass feedstock for bioenergy production by inhibiting the enzymatic decomposition of lignocellulose and accelerating the corrosion of reactor components. Measures to overcome these effects include adjusting the organic loading rate in the reactor or co-digestion with conventional plant materials that serve as energy sources [19]. Another option to increase bioethanol yield is to apply salt-tolerant enzymes from halophilic microorganisms to degrade lignocellulose under saline conditions.
This interdisciplinary review provides an overview of halophytes as potential sources of energy, their availability on the scales necessary for producing bioenergy, and the technical challenges related to processing the lignocellulose from salt-containing biomass (Fig.
1
). To deeper address these topics, Section 1 provides a general classification of halophytes and a description of their natural habitats. Section 2 describes halophyte habitats starting with the types of habitats, assessment and monitoring methods for saline soils, and the global distribution of saline environments and also emphasizes the processes of soil salinization and soil chemistry of saline environments. Section 3 identifies halophytes species that are exclusively suitable for biofuels production, whereas Section 4 summarizes the process of enzyme-mediated degradation of cell walls in plants, focusing on salt-tolerant enzymes to improve the efficiency of converting biomass into bioenergy. Section 5 concludes the review and provides perspectives for future research on treated and produced water for halophyte irrigation, on side effects of cultivating halophytes, and on improving bioenergy production from halophytes.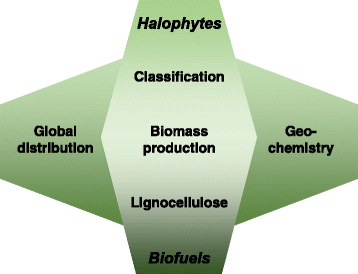 Classification of halophytes
Halophytes represent a phylogenetically heterogeneous group of extremophilic plants native to saline habitats, which can cope with or even require high levels of salt for optimal growth [20]. Halophytes are present in nearly half of the plant families. Currently, more than 2600 halophyte species, distributed worldwide, have been identified, which reflects their potential as cash crops under saline conditions [21, 22].
Halophytes were defined as salt-tolerant plants that can thrive and complete their life cycle in habitats with soil salinities up to 200 mM NaCl [
23
]. More recently, halophytes were described as plants that can tolerate salt concentrations ranging from 500 mM NaCl to 1000 mM NaCl [
21
]. Halophytes are generally classified into two categories: euhalophytes, considered the most tolerant species, which
require
salt for optimal growth and have the ability to grow at concentrations up to 500 mM NaCl, and miohalophytes, considered less tolerant, that do not show salt-induced growth stimulation [
24
,
25
] (Fig.
2
). The ability of halophytes to survive under such challenging conditions is complex and multifaceted, but it closely depends on the plant ability to control salt uptake through the compartmentalization of Na
+
('includer' species) and/or to salt extrusion ('excluder' species).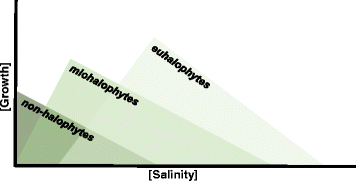 Habitats of halophytes
The description of different halophyte habitats, and of their distribution and functioning, is essential for assessing the potential of halophytes as sources of bioenergy. This section, therefore, focuses on the soil–plant relationship in salty environments. The physical chemistry of soils and sediments needs to be discussed and the soil salinization process is described to more accurately assess the untapped potential of this ecological niche for producing biomass using halophytes.
Halophytes as potential sources of biodiesel and bioethanol
The lignocellulosic biorefinery concept encompasses the use of biomass to produce biodiesel, bioethanol, biogas, biomethanol, hydrogen, charcoal, and other energy sources [71]. However, this review focuses exclusively on the potential of salt-tolerant plants as a source of biodiesel, and bioethanol. Biodiesel is composed of monoalkyl esters of long-chain fatty acid derived from renewable feedstock as well as vegetable oil and animal fats [72]. Biodiesel is generated from such oil-rich sources as sunflower, soybean, oil palm, rapeseed, and rice bran whereas bioethanol is produced by fermentation and could also be generated from a variety of agricultural wastes.
Extremophile plants such as halophytes are considered promising candidates for large-scale production of bioenergy in the form of bioethanol, and biodiesel. Indeed, biofuel from halophytic biomass may represent a sustainable alternative to conventional fossil fuels in dealing with the global issue of resources for human consumption and the depleting stocks of fossil fuels [17, 47].
Conclusion
Nowadays, the bulk of energy and products of the fuel and chemical industry are derived from fossil fuels. However, a transition from fossil-fuels-based industry to a widely applied bio-based industry is highly desirable in the energy and chemicals sectors. The potential of halophytes in biofuel production is reviewed here, including their characterization and the analysis of potential regions worldwide for their cultivation with focus on soil conditions. Specific species have been identified as sources of biodiesel and bioethanol, as well as enzymes to degrade the cell walls of those species. The review concludes by discussing several methods of producing bioethanol.
Future research directions
Treated water and produced water for irrigating halophytes
Suitable ecosystems and halophyte habitats are highly dependent on different species and need be analysed in terms of those species. The comparative advantages and disadvantages of such species also need to be examined. Another approach is to investigate whether saline water in the form of treated wastewater or that produced during oil production can be used to irrigate halophytes. Further research is also required into these resources that are not linked at present to specific soils or habitats.
Side effects of cultivating halophytes
Halophytes for bioenergy need to be grown on a large scale if they are prove economically feasible and competitive with other energy sources. Such large-scale cultivation may have both positive and negative side effects, some of which are mentioned here.
A major question is the productivity of halophytes. Research is necessary to assess the productivity of halophytes accurately, since productivity is one of the most important criteria for the economic viability of halophyte cultivation.
In general, the costs of cultivating halophytes are comparable to those of conventional agriculture if we take into account the need to reduce CO2 emissions, to use arable land and freshwater resources carefully, and to reduce our dependence on oil. These considerations make halophytes more advantageous than algae, cyanobacteria, and organic waste, which are commonly used as feedstock for biofuel. Due to the fact that methanogenic microorganisms are outcompeted halophiles in salty environments, producing biofuel from biomass grown on salt-rich soils may contribute more to reducing the emissions of greenhouse gases than that grown on normal soils.
Mavi et al. [69] found that the loss of DOC from saline–sodic soils is lower than that from sodic soils because of bridging of cations at high electrolyte concentrations and suggest that increasing the concentration of electrolytes in sodic soils by liming or by irrigating with saline water may reduce the loss of nutrients through leaching and increase organic matter sequestration. However, as some regional environments may be particularly vulnerable and may be affected adversely by intensive agriculture, an analysis of specific local conditions and assessment of ecological impact are mandatory.
Improving bioenergy production from halophytes
Another future option would be to dissolve lignocellulose material from halophytes in saline ionic liquids, which are well established as alternative and 'green' solvents to be used in the pre-treatment of the walls of plant cells prior to enzymatic hydrolysis [126]. Lignocellulosic biomass from halophytes for ethanol production proved advantageous both in term of high net productivity and low maintenance costs [17]. Considering the advantages of second-generation biofuels, it is recommended that biofuel production be increased up to 10–20 EJ a year by 2050 [127] and the share of biofuels in the transport sector be increased from 3% to 8% worldwide between 2013 and 2035 [128].
Abbreviations
CEC:

Cation exchange capacity
DOC:

Dissolved organic carbon
EC:

Electrical conductivity
ECe:

Electrical conductivity at reference water content
EMI:

Electromagnetic induction
ET:

Evapotranspiration
SOC:

Soil organic carbon
TDS:

Total dissolved salts
TE:

Treated effluents
TOE:

Tonnes of oil equivalent
Declarations
Acknowledgements
Not applicable.
Funding
This publication was supported by the Arab German Young Academy of Sciences and Humanities (AGYA) and the Federal Ministry of Education and Research (BMBF) through the AGYA tandem project 'Potential of halophytes to be used as bioenergy resource'.
Availability of data and materials
Not applicable.
Authors' contributions
AD and SE designed the manuscript. AD and IB (halophyte physiology and biofuel potential), JF and CM (soil and water) and SE (microbiology) wrote and approved the final manuscript. All authors contributed equally to this work.
Competing interests
The authors declare that they have no competing interests.
Consent for publication
Not applicable.
Ethics approval and consent to participate
Not applicable.
Publisher's Note
Springer Nature remains neutral with regard to jurisdictional claims in published maps and institutional affiliations.
Open AccessThis article is distributed under the terms of the Creative Commons Attribution 4.0 International License (http://creativecommons.org/licenses/by/4.0/), which permits unrestricted use, distribution, and reproduction in any medium, provided you give appropriate credit to the original author(s) and the source, provide a link to the Creative Commons license, and indicate if changes were made. The Creative Commons Public Domain Dedication waiver (http://creativecommons.org/publicdomain/zero/1.0/) applies to the data made available in this article, unless otherwise stated.
Authors' Affiliations
(1)
Laboratoire des Plantes Extrêmophiles (LPE), Centre de Biotechnologie de Borj-Cedria (CBBC), Hammam-Lif, Tunisia
(2)
Arab German Young Academy of Sciences and Humanities (AGYA), Working group "Energy, Water and Environment", at the Berlin-Brandenburg Academy of Sciences and Humanities, Berlin, Germany
(3)
Department of Catchment Hydrology, Helmholtz Centre for Environmental Research - UFZ, Leipzig, Germany
(4)
Institute of Bio- and Geosciences: Agrosphere (IBG-3), Forschungszentrum Jülich GmbH, Jülich, Germany
(5)
Institute of Technical Microbiology, Hamburg University of Technology (TUHH), Hamburg, Germany
(6)
Present address: Miltenyi Biotec GmbH, Bergisch Gladbach, Germany