Fan-out in gene regulatory networks
Journal of Biological Engineering
2010
4:16
Received: 11 September 2010
Accepted: 17 December 2010
Published: 17 December 2010
Abstract
Background
In synthetic biology, gene regulatory circuits are often constructed by combining smaller circuit components. Connections between components are achieved by transcription factors acting on promoters. If the individual components behave as true modules and certain module interface conditions are satisfied, the function of the composite circuits can in principle be predicted.
Results
In this paper, we investigate one of the interface conditions: fan-out. We quantify the fan-out, a concept widely used in electrical engineering, to indicate the maximum number of the downstream inputs that an upstream output transcription factor can regulate. The fan-out is shown to be closely related to retroactivity studied by Del Vecchio, et al. An efficient operational method for measuring the fan-out is proposed and shown to be applied to various types of module interfaces. The fan-out is also shown to be enhanced by self-inhibitory regulation on the output. The potential role of an inhibitory regulation is discussed.
Conclusions
The proposed estimation method for fan-out not only provides an experimentally efficient way for quantifying the level of modularity in gene regulatory circuits but also helps characterize and design module interfaces, enabling the modular construction of gene circuits.
Keywords
Synthetic BiologyModule InterfaceGene CircuitTranslation RateNAND Gate
Background
Engineering relies on modular composition, that is, the ability to combine functional units with the knowledge that the intrinsic properties of each module is unaffected to a large degree by the composition. In biology, the notion of a modular component is less clear, or at least biology has multiple definitions depending on context [1]. Here a module is defined as a self-contained functional unit whose intrinsic properties are independent of the surrounding milieu. This definition is similar to that used in engineering. For example, the intrinsic properties of a CMOS (complementary metal oxide semiconductor) NAND gate [2] is unaffected (within certain design constraints) when connected to other CMOS logic gates. That is, a NAND gate remains a NAND gate no matter what it is connected to. This property allows engineers to design, predict, and fabricate complex circuits at very low cost. The question whether such self-contained and functionally independent modules exist at the biological cellular network level is still an ongoing research problem [3]. In this paper, the design of modular synthetic components [4–10] is considered, and the question of modularity in natural complex systems is avoided.
In the most abstract sense, a module can be defined as follows. Given a functional unit M with input I and output O, a relation between the input and output can be defined as O = M(I). Given two functional units, M1 and M2, where the output of M1 serves as the input to M2, then M1 and M2 are defined as modules if the relation, O2 = M2(M1(I1)) is true. This simply means that in connecting M1 and M2 together, M2 has no effect on the functional characteristics of M1 and vice versa.
Predictable composition is of particular interest to the synthetic biology community where gene circuits are "wired" together via transcription factors (TFs) and corresponding promoters (Figure
1
). This mode of wiring makes the physical construction of relatively complex networks possible [
11
,
12
]. However the general question of whether making a connection between two genetic units results in a predictable functional whole remains. In particular, a number of issues present themselves that include independence from the surrounding milieu (also called orthogonality [
5
]): domain matching and impedance bridging. The former describes the situation where the operating concentration range of an output transcription factor matches the range of the input target. Impedance bridging, which is the main topic of this paper, is concerned with how much a downstream target circuit can affect the functional properties of an upstream unit. It is not to be confused with impedance matching which is related to the maximum power transfer between two circuits. There has recently been interest in defining impedance bridging in genetic and protein circuits [
13
–
15
] and a related quantity called retroactivity was introduced by Saez-Rodriguez et al. [
16
] and Del Vecchio et al. [
17
] to describe the effect of one module on another.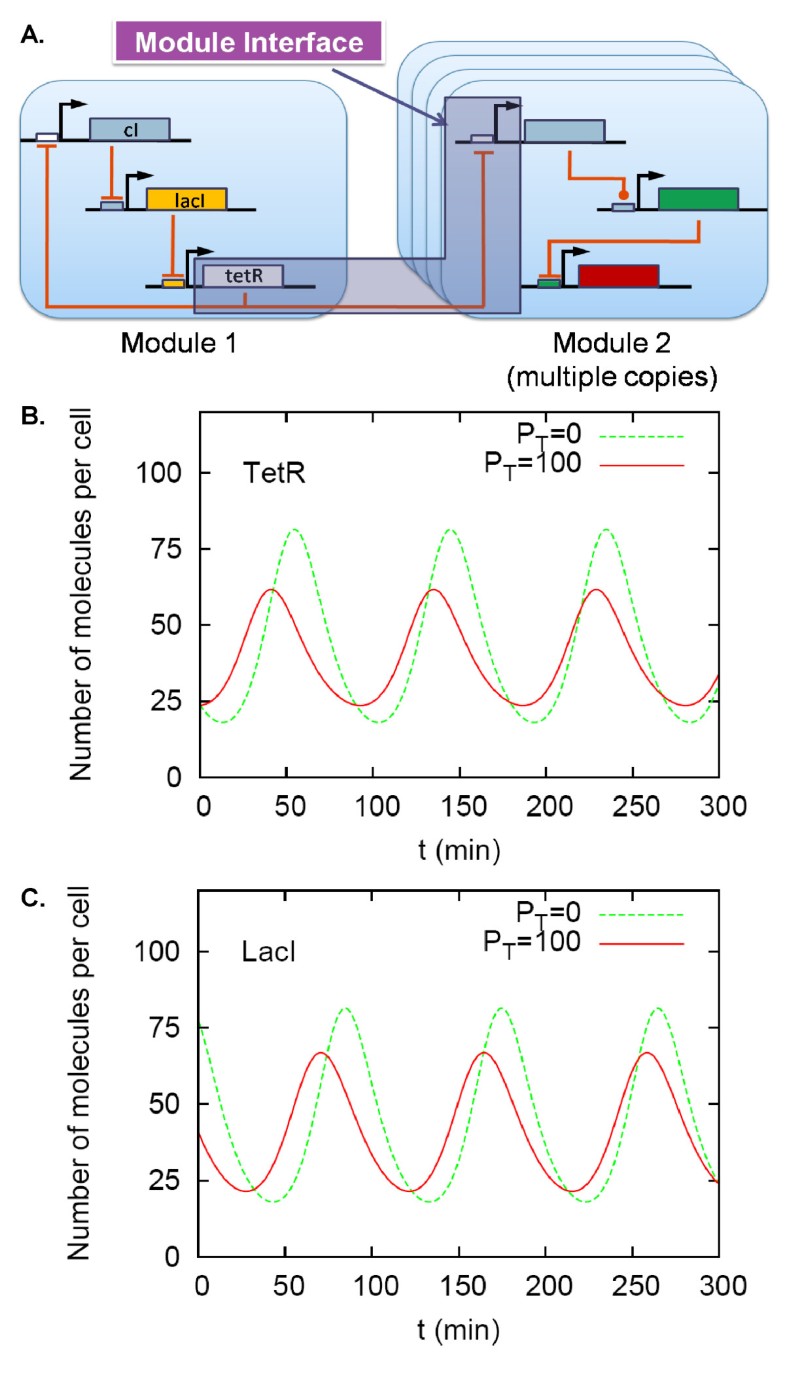 In electrical engineering there exist guidelines and published constraints on how many electrical modules can be driven from a source. For example, one rule of thumb for analog circuits suggests that the impedance at the input should be ten times the impedance at the driving circuit. In digital circuits, such as TTL (transistor-transistor logic) circuits [18], manufacturers will quote the fan-out and fan-in for a given electrical module. The fan-out indicates how many downstream logic gates can be connected to a given output. Exceeding these limits will potentially cause signal distortion in analog circuits and circuit failure in digital circuits. We envision the development of similar criteria for connecting two biological modules together in synthetic biology and introduce the notion of fan-out for a genetic circuit. The fan-out of a genetic circuit is defined as the maximum number of downstream promoters that can be driven from an upstream circuit signal without significant time-delay or signal attenuation.
In this manuscript, an experimental estimation method for the fan-out is proposed. This method is based on a linear relationship between a certain property of a module (response time) and the amount of load from downstream components (e.g., the number of downstream promoters in gene circuits). This linear relationship has not been discussed in previous work, for example the work by Del Vecchio et al [17, 19]. By taking into account the linearity, we extend the retroactivity concept to the fan-out. Our analysis shows that the linear relationship holds not only for the simple module interface that Del Vecchio et al. considered [17] but also for a much wider class of interface. The linear relationship is shown to provide a unifying way for evaluating the fan-out in an efficient manner for all the interfaces belonging to the class. The fan-out can be estimated by using the autocorrelation [20–25] of gene expression noise [26–29]. During the estimation procedure the system's retroactivity can also be measured. Although our analysis is focused on genetic networks, the principles apply equally to signal transduction networks.
Conclusions
In this paper, the concept and quantitative measure of fan-out have been introduced for genetic circuits. The fan-out is a measure of the maximum number of promoter sites that the output TFs of the upstream module can regulate without significant slow-down in the kinetics of the output. In addition, an efficient experimental method to estimate the fan-out have been proposed. The fan-out has been shown to be enhanced by self-inhibitory regulation on the output. In the estimation process of the fan-out, the retroactivity can also be computed. This study provides a way for quantifying the level of modularity in gene regulatory circuits and helps characterize and design module interfaces and therefore the modular construction of gene circuits.
Methods
This section shows the mathematical derivations of the time-constant and fan-out functions for various cases.
Declarations
Acknowledgements
This work was supported by a National Science Foundation (NSF) Grant in Theoretical Biology 0827592. Preliminary studies were supported by funds from NSF FIBR 0527023. The authors acknowledge useful discussions with Hong Qian and Suk-jin Yoon.
Authors' Affiliations
(1)
Department of Bioengineering, University of Washington, Seattle, USA
Copyright
© Kim and Sauro; licensee BioMed Central Ltd. 2010
This article is published under license to BioMed Central Ltd. This is an Open Access article distributed under the terms of the Creative Commons Attribution License (http://creativecommons.org/licenses/by/2.0), which permits unrestricted use, distribution, and reproduction in any medium, provided the original work is properly cited.