Electrospun nanofibers as versatile interfaces for efficient gene delivery
Journal of Biological Engineering
2014
8:30
Received: 14 October 2014
Accepted: 27 November 2014
Published: 9 December 2014
Abstract
The integration of gene delivery technologies with electrospun nanofibers is a versatile strategy to increase the potential of gene therapy as a key platform technology that can be readily utilized for numerous biomedical applications, including cancer therapy, stem cell therapy, and tissue engineering. As a spatial template for gene delivery, electrospun nanofibers possess highly advantageous characteristics, such as their ease of production, their ECM-analogue nature, the broad range of choices for materials, the feasibility of producing structures with varied physical and chemical properties, and their large surface-to-volume ratios. Thus, electrospun fiber-mediated gene delivery exhibits a great capacity to modulate the spatial and temporal release kinetics of gene vectors and enhance gene delivery efficiency. This review discusses the powerful characteristics of electrospun nanofibers, which can function as spatial interfaces capable of promoting controlled and efficient gene delivery.
Keywords
Gene deliveryElectrospun nanofibersControlled gene deliveryTissue engineeringSustained release
Introduction
Gene delivery has emerged as a powerful platform technology for a variety of biomedical applications, including tissue engineering, cancer therapy, and stem cell therapy. Altering genetic information through exogenous stimulation of target cells can accomplish numerous intended goals, such as differentiation of the targets cells into specialized cell types [1–3], activation of apoptosis signals in cancer cells [4, 5], secretion of factors that cause autocrine or paracrine effects in tissues [6–8], or the production of cellular therapeutics [4, 9]. Each of these functions of gene delivery technologies can be essential in a particular case, potentially offering promising strategies for improving the targeted function. Additionally, the identification of new genetic targets or sequences involved in human diseases through the completion of the Human Genome Project has enormously accelerated the progress of gene delivery technologies in numerous applications [10].
Using the full potential of gene delivery in numerous biomedical applications requires a series of toolkits that can help to overcome the limitations associated with gene delivery technologies, the first necessary step prior to employing gene delivery in applications is the selection of suitable gene delivery vehicles, which can be categorized into viral or non-viral vectors, depending on the target applications or cell types. The engineering of versatile gene delivery carriers, which can specifically target clinically valuable cell types (i.e., cancer or stem cells), can avoid immune system effects or toxicities, and can safely pass through complicated intracellular steps to reach the nucleus, is one of the most critical tasks in gene delivery [11–13]. However, the direct administration of gene vectors in liquid formulations to humans, a representative delivery mode, can lead to systemic spread in the body, presumably resulting in risks arising from gene expression in off-target regions [14]. Importantly, direct exposure to viral vectors, which have typically been known to increase gene transfer efficiencies compared with non-viral vectors, might cause severe immune responses against the vectors or even its gene products [15]. Direct injection of gene vectors typically boosts the vector or gene expression dosages in the blood stream or target regions within a short time, possibly leading to cellular toxicities or a short duration of gene expression [7]. Repeated and periodic administration of gene vectors, which can cause pain in patients, may be the only method that can extend the duration of gene expression. These aforementioned concerns about gene delivery are mostly associated with extracellular delivery mechanisms and can raise safety issues, possibly delaying the immediate translation of gene delivery methods into clinical trials. Thus, novel technologies that can modulate gene delivery routes or profiles within extracellular environments must be used to facilitate the successful translation of gene delivery for human clinical use. Combining gene delivery with biomaterial systems has been commonly discussed as a powerful strategy that can provide opportunities to more effectively apply gene delivery for many biomedical applications [6, 7, 13, 16].
In this review, we primarily focus on the strategy that combines gene delivery with electrospun nanofibers as one strategy among all of the interdisciplinary approaches of gene delivery with biomaterials, which have been typically employed as tissue engineering scaffolds [17–19], microparticles [20, 21] and nano or micro devices [22, 23]. This strategy addresses the concerns about both gene delivery and potential applications, and these nanofibers can be easily fabricated using a cost-effective method. Electrospun nanofibers have been extensively explored as spatial templates that can effectively mimic the structure or functions of extracellular matrices (ECMs), thereby working as highly effective interfaces that can retain cellular morphologies and efficiently deliver biomolecules to target cell types [24, 25]. Thus, electrospun nanofibers have great potential as a physicochemical guide that can be used for numerous biomedical applications, including tissue engineering and drug or gene delivery [24, 26]. This review will primarily discuss the powerful characteristics of electrospun nanofibers as spatial templates for gene delivery. Finally, successful employment of the combinatorial approaches of gene delivery with electrospun nanofibers will be classified depending upon the application, including tissue engineering, cancer therapy, and stem cell studies.
Electrospun nanofibers as versatile spatial templates
Electrospinning is a versatile method for fabricating ultrafine polymeric nanofibrous structures through electrostatic interactions (Figure
1
). Deposition of the resultant fibers on grounded collectors can produce non-woven fibrous matrices with high surface-to-volume ratios and diameters ranging from nanometers to micrometers [
27
–
29
]. One of the highly advantageous aspects of using electrospun matrices as building blocks for numerous biomedical applications is the feasibility of manipulating the physical and chemical characteristics of the resultant fibrous structures. Specifically, the surface morphology [
30
,
31
], mechanical strength [
32
,
33
], fiber orientation [
34
–
36
], and inner structure of the fibers [
37
–
39
] can be diversified by simply adjusting the various fabrication parameters, such as collector designs and nozzle alignments. Additionally, a variety of materials, including metals [
40
,
41
], ceramics [
42
–
44
], synthetic polymers [
33
,
45
–
47
], peptides [
48
,
49
], and viral solutions [
50
], can be applied to produce electrospun nanofibrous structures. Conventional electrospinning techniques typically generate two-dimensional sheet-like shapes. In contrast, advanced electrospinning tools, such as layer-by-layer deposition [
45
,
46
], E-beam etching [
51
,
52
], selective leaching [
33
], and plasma treatment [
53
,
54
], have recently been developed to produce well-defined or sophisticated three-dimensional fibrous structures, ultimately further expanding the scope for numerous biomedical applications.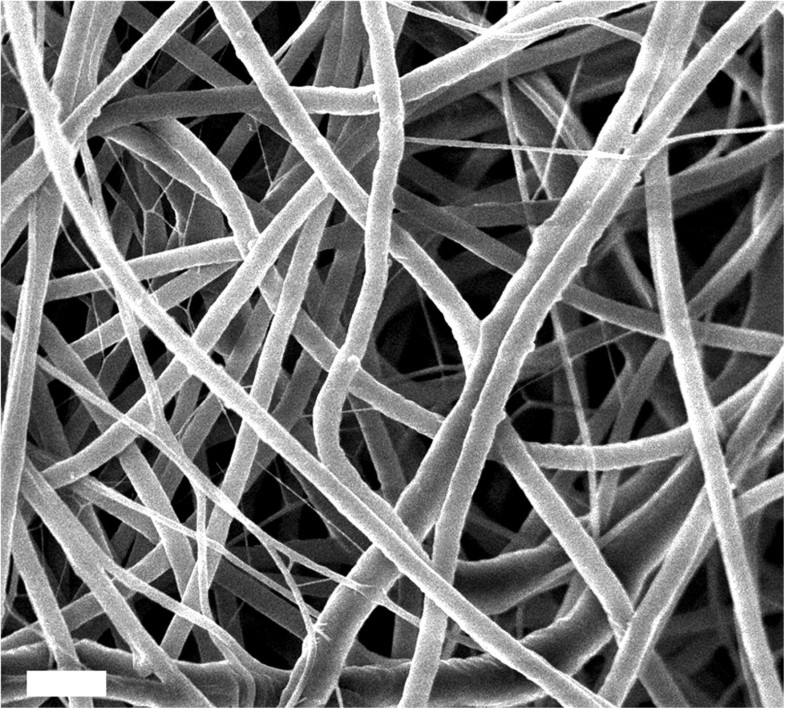 Electrospun nanofibers for gene delivery
Owing to these multiple merits, highly porous fibrous structures have recently been employed as powerful templates for delivering genes of interest for various purposes (e.g., tissue engineering, cancer treatment or stem cell studies) in a spatially or temporally regulated manner [24–26]. Non-viral gene vectors, such as naked plasmid DNA or DNA/polyplexes, have primarily been incorporated within or onto electrospun nanofibers, presumably because of their ease of production or their capacity to maintain the intact properties compared with viral vectors [55–57]. The use of viral vectors, which are created by stripping the viral genomic sequences and subsequently packaging the genes of interest into the viral capsid, has recently been integrated with electrospun nanofibers, primarily to further increase the gene delivery efficiency or extend the duration of gene expression [30, 33, 48].
To ensure that electrospun fibers can be used as gene delivery templates, the lack of harmful effects of two major processing features on the bioactivities of gene vectors must be confirmed; the processing typically includes direct contact between gene vectors and organic solvents and exposure to a high electric voltage. No systematic studies have been performed to thoroughly investigate the detrimental effects of the electrospinning processes on the activities of gene vectors. However, no substantial loss of the capabilities of gene vectors as a result of the relatively harsh electrospinning processes has been observed in many previous studies [
47
,
48
,
58
]. The methods for loading gene vectors in electrospun nanofibers can be classified into two categories, which are summarized in Table
1
: encapsulating gene vectors within the fiber interiors during the fiber production process, and immobilizing gene vectors onto the fiber exterior after the process. The former methods, which incorporate gene vectors within structures by simple mixing with the polymer solution, emulsification, and co-axial electrospinning, primarily focus on the controlled release of gene vectors by modulating the physical or chemical properties of fibrous constructs. In the latter methods, gene vectors are typically associated with electrospun nanofibers after the completion of all the fabrication procedures, and the main goal is to prevent the possible harmful effects of organic solvents or a high electric field on the activities of gene vectors and thus further increase gene delivery efficiencies. Additionally, post-adsorption approaches can be adjusted to allow the spatial control of gene delivery by using additional technological tools, such as surface chemistry [
33
,
46
,
59
] and vector modifications [
60
].
Table 1
Classification of electrospun nanofiber-mediated gene delivery approaches
Vector loading methods

Vectors

Genes

Target cells

Results

Ref

Vector encapsulation

Virus (Ad)

GFP, RFP

HEK293T

• Sustained and controlled viral release for 30 days.

[30]

• Localized gene expression from electrospun scaffolds.

Plasmid DNA

β-Gal, GFP

MC3T3-E1

• Gene expression by the released DNA 48 h after seeding

[47]

• Burst release of majority of encapsulated plasmid DNA within 30 minutes.

Cdk2i, EGFPi

MCF-7 cell

• Sustained release over 21 days

[115]

• ~40% decrease in proliferation of breast cancer cells compared with control scaffold

EGFP

Rat fibroblasts

• Extended release of pDNA and transgene expression over 60 days.

[55]

Virus (AAV)

GFP

NIH3T3

• Sustained viral release for 7 days.

[48]

• Maintained transgene expression (>90%) on the scaffolds for 7 days.

Plasmid DNA/chitosan nanoparticle

BMP-2

hMSC

• Sustained release for 45 ~ 55 days

[56]

• DNA/chitosan nanoparticles encapsulated electrospun scaffolds as a favorable DNA delivery device with regard to cell transfection efficiency and cell viability

Plasmid DNA/LEL polyplex

β-Gal, GFP

MC3T3

• Transgene expression on DNA-incorporating electrospun scaffolds 24 h after seeding.

• Sustained release for 7 days.

siRNA/CPP polyplex

Col1A1 silencing

Human dermal fibroblasts, in vivo

• Prolonged in vitro gene silencing duration by 2 ~ 3-fold.

[58]

• In vivo gene silencing for 4 weeks.

Plasmid DNA/PEI

EGFP

NIH3T3

• Controlled release time from 6 days to 25 days by internal structures and porogens.

[64]

• 10-fold increased gene expression on the scaffolds compared to simple pDNA/PELA blends.

VEGF/eGFP & bFGF/eGFP

HUVEC

• Sustained release for 4 weeks

[65]

• Significantly higher vessel densities

bFGF/GFP

BEF, in vivo

• Sustained release for 26 days

[84]

• 4 ~ 6-fold increased bFGF expression compared with post-electrospinning delivery after 7 day incubation

• Significantly higher wound recovery rate compared with post-electrospinning delivery

siRNA/chitosan polyplex

EGFP silencing

EGFP expressing human lung carcinoma cell lines

• Sustained and controlled delivery for 30 days.

[67]

• Prolonged in vitro gene silencing duration by 3 ~ 4-fold compared to the bolus delivery.

siRNA

GAPDH silencing

HEK293, NIH3T3

• Sustained release of siRNA for 28 days.

[68]

• Gene silencing on scaffolds in presence of additional transfection agents.

• Enhanced gene silencing capability with additional transfection agents in the media.

siRNA/transfect-ion reagent complex

GAPDH silencing

NIH3T3

• Sustained release of siRNA and gene silencing on the scaffolds for at least 28 days.

[69]

• Improved gene silencing capability with transfection agents supplemented in the media.

Solid-in-oil dispersion of plasmid DNA

Luciferase

N/A

• Release profile controlled by degrading rates of fibers.

[81]

• 10-fold increases in functional integrity of released pDNA compared to mixed mesh.

Plasmid DNA/calcium phosphate nanoparticle

VEGF/eGFP & bFGF/eGFP

HUVEC, hAoSMC

• Sustained release for 4 weeks

[83]

• Significantly higher densities of blood vessels and mature vessels

Vector immobilization

Virus (AAV)

GFP, Luciferase

HEK293T

• Three-dimensional and uniaxially aligned transgene expression

[33]

• 4-fold enhanced transgene expression levels compared to 2D electrospun scaffolds.

Plasmid DNA

EGFP

Glioblastoma cells

• Transgene expression by the released DNA from the fibers (maximum transfection efficiency > 90%).

[45]

Luciferase

COS-7

• Retained gene expression on the fibers for 5 days after seeding.

[46]

• 2-fold increased gene delivery efficiency of electrospun fibers over that of flat films.

GFP, Dsred

HEK293, MSC, in vivo

• 10-fold increase in gene expression intensity compared to PCL fibers in vivo.

[59]

EGFP-N1

NIH3T3, in vivo

• MMP-2 responsive release of DNA

[66]

• Significantly enhanced gene expression in wound tissue compared to naked DNA delivery

Luciferase, KGF

NIH3T3, in vivo

• Sustained expression for 7 days

[76]

• 65% smaller epithelial gap in KGF scaffold treated wounds than in untreated wounds

hEGF

HDF, in vivo

• MMP-2 responsive release of DNA

[85]

• Approximately 2-fold increased wound closure compared with non-treated wounds

EGFP

MC3T3-E1

• Controlled gradients of pDNA concentration and gene expression level by spatially regulating rates of chemical reactions.

[98]

Virus (AAV)

GFP

HEK293T

• Patterned and localized gene vectors and gene expression on the scaffolds.

[60]

• 2-fold increase in transfection efficiency compared with unmodified virus delivery.

Plasmid DNA/liposome

RUNX2/eGFP

hBMSC

• Long-term gene expression for 21 days

[77]

• Improved osteogenic differentiation of stem cells

siRNA/PEI polyplexes & siRNA/ transfection reagent complex

TSP-2 silencing

hAoSMC

• Down-regulated TSP-2 mRNA expression

[78]

Plasmid DNA/chitosan nanoparticle

BMP-2

in vivo

• Different bone healing performance depending on the loading methods

[82]

• Improved bone healing for DNA/chitosan nanoparticles adsorbed electrospun scaffolds at 4 weeks of treatment

siRNA

MMP-2 silencing

HDF, in vivo

• MMP-2 responsive release of DNA

[86]

• Faster wound recovery rate compared with siRNA solution delivery

Plasmid DNA/ssPEI

Luciferase, RFP, VEGF

H9C2 myoblastic cell

• Enhanced transfection efficiency compared to bolus delivery

[87]

• Successful expression of the VEGF gene in the cells

siRNA/ transfection reagent complex

REST silencing

NPC

• Enhanced neural marker expression and neuronal differentiation

[88]
Advantageous aspects of electrospun nanofibers for gene delivery
Combining gene delivery with engineered polymeric biomaterials has been regarded as an indispensable strategy to increase delivery efficiencies and modulate gene delivery kinetics in a spatial and temporal manner. Genes delivered via a classic method (i.e., direct administration of a liquid formulation) diffuse freely within the body and thus suffer from the regulation of gene delivery rates or the localization of gene expression within a designated region [13, 14]. In contrast, manipulating the physical or chemical properties of polymer matrices or modulating the molecular interactions of gene vectors with polymer materials can readily tune the release profiles of gene vectors, which can range from a few hours to more than months [6, 8]. The sustained release of gene vectors from polymeric templates can increase their residence time within the cellular microenvironment, potentially enhancing the gene transfer efficiency and extending the duration of gene expression [16]. Importantly, the extremely large surface-to-volume ratios and the ECM-analogue nature, which are unique properties of electrospun nanofibrous structures, make nanofibers powerful alternatives for maximizing the capabilities and efficiency of gene delivery in a variety of biomedical fields [25, 61].
The high porosity of electrospun nanofibers can facilitate increased cellular contacts with well-distributed gene vectors within or over large surface areas, thereby allowing more opportunities to internalize gene vectors across the cellular membrane. Furthermore, the pores of electrospun nanofibers are typically produced with interconnected open structures, which can improve the cellular penetration into fibrous interiors and increase the gene vector loading capacities, thereby increasing in the gene delivery efficiencies [62]. For example, the adsorption of adeno-associated viral (AAV) vectors on the surface of three-dimensional fluffy fibrous structures, whose specific pore volume was 4-times greater than that of two-dimensional electrospun mats, allowed a significant improvement in cellular transduction efficiencies compared with vectors associated with flat non-porous polymeric systems [33]. Consistently, immobilizing plasmid DNA on highly porous poly(lactic) acid (PLA) fibrous matrices resulted in approximately 1.5-fold increased gene delivery efficiencies compared with those for non-porous PLA films [46], confirming the superior contribution of nanofibrous pore structures to gene delivery.
Strategies for controlling electrospun nanofiber-mediated gene delivery
Owing to the ease of tuning structural variations of electrospun nanofibers, the capability of these fibers to mediate controlled and sustained gene delivery has been recognized as the most representative feature of electrospun nanofibers compared with other existing polymeric gene delivery templates. It is well known that variations in polymer degradation through hydrolysis and alterations of diffusion routes through porous structures have been key design parameters that can vary the release kinetics of biomolecules encapsulated within or adsorbed on polymeric templates [63]. In addition to these conventional ways to control release profiles, additional design variations in electrospun nanofibers have been explored to diversify the kinetics of the release of gene vectors from the fibrous structures. For example, the structural characteristics of individual fibers can be altered by changing the formulation of the core-sheath structures or by modifying the surface properties as an alternative strategy to vary the release rates of incorporated or adsorbed gene vectors from the electrospun fibers or to further increase delivery efficiencies [64, 65]. The following section describes versatile methods capable of mediating controlled gene delivery from electrospun nanofibers; these methods were classified by the vector-loading approaches, in which the vector is encapsulated into the interior (Controlled release from nanofibers by encapsulating gene vectors and Core-sheath formulations for controlled release) or immobilized onto the exterior of nanofibers (Substrate-mediated gene delivery using electrospun nanofibers).
Potential applications of electrospun nanofibers that release gene vectors
Tissue engineering
Owing to both their versatile capabilities that can be used to coordinate the release profiles of gene vectors and their ECM-analogue nature (Figure 1), gene vector-eluting electrospun nanofibrous structures have primarily been used for tissue regeneration approaches. In this combinatorial gene delivery approach using electrospun fibers as tissue engineering scaffolds, the spatially or temporally regulated secretion of tissue inductive growth factors from cells can initiate either autocrine or paracrine effects to stimulate cellular processes for tissue formation; the cells are transfected or transduced by gene vectors carrying the specific genes [7, 8, 18, 95]. Compared with the direct protein delivery approach, this approach allows for the sustained secretion of fresh growth factor proteins from the cells, and this secretion can play a key role in maintaining the stability of the proteins, potentially maximizing the efficacy of tissue formation [7, 8, 100]. Additionally, the capabilities of inducing localized gene expression adjacent to polymeric systems can further increase the efficacy to promote tissue formation in a defined area [18]. Thus, electrospun nanofibers that release gene vectors have been employed as a platform scaffold for mediating the regeneration of tissue, such as bone [56, 77, 82], skin [66, 76, 84–86], blood vessels [65, 78, 83, 87], and nervous system tissues [88].
Other applications
Electrospun fibers have been recently employed in a stem cell study or a cancer therapy approach in addition to their use in tissue engineering applications. Fei et al. fabricated a nanofiber-based sandwich electroporation (NSE) device capable of in situ gene transfection in mouse embryonic stem cells [114]. Unlike a conventional bulk electroporation, this NSE system did not require the removal of adherent cells from the substrate, thereby improving cellular viability and ultimately enhancing transfection efficiency. This study demonstrated that gene vector-releasing electrospun nanofibers can be potentially employed as powerful templates to elucidate stem cell behavior or biology. Meanwhile, Achille et al. utilized electrospun PCL fibers as a gene carrier for the treatment of breast cancer [115]. A plasmid encoding short hairpin RNA (shRNA) suppressing the level of the cell cycle specific protein, cyclin-dependent kinase 2 (Cdk2), was blended with PCL solutions to construct highly porous electrospun fibers. The interruption of the cell cycle by the silencing effect of the shRNA, which was gradually released from the electrospun PCL fibers, robustly led to the suppression of the proliferation of breast cancer cell lines. This study also indicates that the combination of gene delivery with electrospun nanofibers, which can create ECM-analogous environments and tunable gene delivery in a spatial and temporal manner, can provide an alternative powerful means to specifically target a variety of cancer cells.
Conclusions and challenges
Gene therapy has demonstrated increasing promise for treating a variety of human diseases, including inherited or acquired disorders, infectious diseases, tissue loss, and organ failure. The development of highly efficient gene delivery systems that can deliver a gene of interest safely to particular target cells has been always regarded as a large hurdle that must be cleared for the further advancement of gene delivery technologies. Electrospun fibers have highly advantageous characteristics, including ease of production, an ECM-analogue nature, a broad range of choices for materials, the feasibility of producing structures with varied physical and chemical properties, and large surface-to-volume ratios. Because of these characteristics, electrospun nanofibers have recently been highlighted as versatile and powerful templates that can be applied to numerous biomedical fields. Therefore, the integration of gene delivery with electrospun nanofibers is a highly promising strategy to improve gene delivery for a broad range of applications.
For further innovation of approaches that combine gene delivery and electrospun nanofibers, there are several critical challenges, especially improving the structural aspects of electrospun nanofibers. Electrospinning typically produces flat two-dimensional sheet-like meshes, which may not fully represent the three-dimensional extracellular environments in the body. These structural characteristics may limit the ease of application of electrospun nanofibers to many biomedical fields. Numerous studies have created three-dimensional electrospun nanofibers, typically by modifying collectors or by utilizing an extra apparatus [116]. Additionally, engaging the structural flexibility of electrospun nanofibers, which is required to precisely mimic the various shapes of tissues or organs, may be another challenge that must be addressed. Recently, clay-like moldable electrospun nanofibers were created by adjusting the electric repulsion between different materials used to produce the core-sheath layers and then selectively removing sacrificial fibers in the sheath layer [33]. Owing to their moldable clay-like properties, any desired forms, such as the human nose, a ball, or tubes, could be manually shaped. The combination of the clay-like electrospun fibers with viral gene delivery resulted in a high level of gene expression throughout the entire fibrous structure [33]. Adapting micro- and nanofabrication technologies to generate electrospun nanofibrous structures to mimic the spatial and temporal control of the expression of multiple genes in tissues or organs is another challenge that must be addressed. Electrospun nanofibers are powerful candidates for mediators of the spatiotemporal delivery modes of multiple gene vectors because their structure makes it possible to generate patterned fibers and core-sheath structures. However, the mechanical strength of electrospun fibers, which is inherently lower than that of existing polymeric scaffolds, must be reinforced to resist cellular contractile forces upon implantation and to maintain the structural integrity of the scaffolds. Finally, the development of non-invasive electrospun nanofibers, such as injectable formulations, would contribute to the increasing promise of fibrous systems as spatial templates. Overall, further innovation in improving the structures of electrospun nanofibers will be pivotal to extend their use to a variety of biomedical applications, especially gene delivery applications.
Abbreviations
AAV:

Adeno-associated virus
Ad:

Adenovirus
AoSMC:

Aortic smooth muscle cell
bFGF:

Basic fibroblast growth factor
bFGF:

Basic fibroblast growth factor
BMP-2:

Bone morphogenetic protein-2
Cdk2:

Cyclin-dependent kinase 2
CMV:

Cytomegalovirus
ECM:

Extracellular matrix
EEP:

Ethyl ethylene phosphate
ELP:

Elastin-like polypeptides
GDF:

Growth differentiation factor
GFP:

Green fluorescent protein
HAp:

Hydroxyapatite
HA-PEI:

PEI conjugated with hyaluronic acids
hBMSC:

Human bone-marrow-derived mesenchymal stem cell
HDF:

Human dermal fibroblasts
hEGF:

Human epidermal growth factor
HFP:

Hexafluoro-2-propanol
KGF:

Keratinocyte growth factor
LBL:

Layer-by-layer
MMP:

Matrix metalloproteinase
NPC:

Neural progenitor cell
NSE:

Nanofibers-based sandwich electroporation
PBAE:

Polycationic poly(β-amino ester)
PCL:

Poly(caprolactone)
PCLEEP:

Poly(caprolactone-co-ethylethylene phosphate)
PD:

Polydopamine
PDGF:

Platelet-derived growth factor
PDLLA:

Poly(D,L-lactide)
PEG:

Poly(ethylene glycol)
PEI:

Poly(ethylenimine)
PELA:

Poly(D,L-lactide)-poly(ethylene glycol)
PET:

Poly(ethylene terephthalate)
PLA:

Poly(lactic) acid
PLCL:

Poly(L-lactide-co-ϵ-caprolactone)
PLGA:

Poly(D,L-lactide-co-glycolide)
REST:

RE-1 silencing transcription factor
siNEG:

Negative siRNA
RUNX2:

Runt-related transcription factor 2
shRNA:

Short hairpin RNA
siRNA:

Small interfering RNA
TGF-β:

Transforming growth factor-β
TSP-2:

Thrombospondin-2
VEGF:

Vascular endothelial growth factor.
Declarations
Acknowledgments
This work was supported by the National Research Foundation of Korea (NRF) grant through the Active Polymer Center for Pattern Integration (NRF-2007-0056558), Basic Science Research Program (NRF-2012R1A1A1003397), and Bio & Medical Technology Development Program (NRF-2013M3A9D3046431) funded by the Ministry of Science, ICT & Future Planning (MSIP). This research was also supported by a grant of the Korea Health Technology R&D Project through the Korea Health Industry Development Institute (KHIDI), funded by the Ministry of Health & Welfare, Republic of Korea (HI14C1564).
Authors' Affiliations
(1)
Department of Chemical and Biomolecular Engineering, Yonsei University, Seoul, Korea
Copyright
© Lee et al.; licensee BioMed Central. 2014
This article is published under license to BioMed Central Ltd. This is an Open Access article distributed under the terms of the Creative Commons Attribution License (http://creativecommons.org/licenses/by/4.0), which permits unrestricted use, distribution, and reproduction in any medium, provided the original work is properly credited. The Creative Commons Public Domain Dedication waiver (http://creativecommons.org/publicdomain/zero/1.0/) applies to the data made available in this article, unless otherwise stated.