Rational design of Raman-labeled nanoparticles for a dual-modality, light scattering immunoassay on a polystyrene substrate
Journal of Biological Engineering
2016
10:2
Received: 5 August 2015
Accepted: 29 December 2015
Published: 7 January 2016
Abstract
Background
Surface-enhanced Raman scattering (SERS) is a powerful light scattering technique that can be used for sensitive immunoassay development and cell labeling. A major obstacle to using SERS is the complexity of fabricating SERS probes since they require nanoscale characterization and optical uniformity. The light scattering response of SERS probes may also be modulated by the substrate used for SERS analysis. A typical SERS substrate such as quartz can be expensive. Polystyrene is a cheaper substrate option but can decrease the SERS response due to interfering Raman emission peaks and high background fluorescence. The goal of this research is to develop an optimized process for fabricating Raman-labeled nanoparticles for a SERS-based immunoassay on a polystyrene substrate.
Results
We have developed a method for fabricating SERS nanoparticle probes for use in a light scattering immunoassay on a polystyrene substrate. The light scattering profile of both spherical gold nanoparticle and gold nanorod SERS probes were characterized using Raman spectroscopy and optical absorbance spectroscopy. The effects of substrate interference and autofluorescence were reduced by selecting a Raman reporter with a strong light scattering response in a spectral region where interfering substrate emission peaks are minimized. Both spherical gold nanoparticles and gold nanorods SERS probes used in the immunoassay were detected at labeling concentrations in the low pM range. This analytical sensitivity falls within the typical dynamic range for direct labeling of cell-surface biomarkers using SERS probes.
Conclusion
SERS nanoparticle probes were fabricated to produce a strong light scattering signal despite substrate interference. The optical extinction and inelastic light scattering of these probes was detected by optical absorbance spectroscopy and Raman spectroscopy, respectively. This immunoassay demonstrates the feasibility of analyzing strongly enhanced Raman signals on polystyrene, which is an inexpensive yet non-ideal Raman substrate. The assay sensitivity, which is in the low pM range, suggests that these SERS probe particles could be used for Raman labeling of cell or tissue samples in a polystyrene tissue culture plate. With continued development, this approach could be used for direct labeling of multiple cell surface biomarkers on strongly interfering substrate platforms.
Keywords
High-throughputImmunoassayMultiplexingNanoparticleRaman SpectroscopySurface-Enhanced Raman Spectroscopy/Scattering (SERS)
Background
Surface-enhanced Raman spectroscopy (SERS) has the potential to address the clinical need to develop direct cell labeling platforms with both high-throughput and multiplexing capabilities. One example of this need is the classification of hematological malignancies, which require increased multiplexing capacity, as there are 60 recognized subtypes with unique biomarker profiles, pathological characteristics, and required treatments [
1
–
8
]. Commonly used immunoassay detection methods such as fluorescence can only detect 3–5 unique analytes, due to wide fluorescent spectral emission peaks, as illustrated in Fig.
1
[
9
,
10
]. This limitation has prompted interest in developing nanoparticle-based optical probes for multiplex biomarker analysis.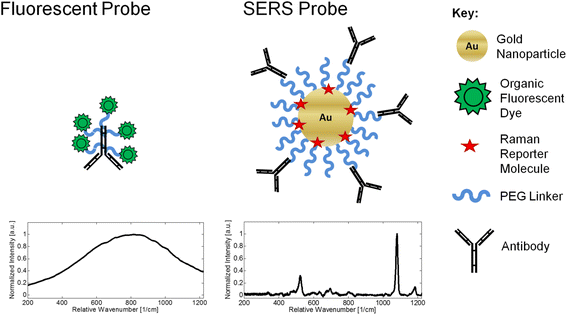 Several different types of nanoparticles have been used for multiplex immunoassays including colorimetric nanoparticles [11, 12], quantum dots [13, 14], and SERS probes [15–18]. Of these, SERS probes have the narrowest emission peaks and the greatest multiplexing capacity [10, 19]. It is estimated that SERS probes could label up to 100 different biomarkers with little spectral overlap [10, 19]. The development of a SERS immunoassay using polystyrene microplates for protein binding has the potential to meet current clinical needs for high-throughput detection of multiple analytes.
In addition to their multiplexing capacity, SERS probes have several other characteristics that make them useful in immunoassay development. SERS is a light scattering technique with an emission lifetime of approximately 10−14 seconds, which is shorter than a typical fluorescence emission lifetime of approximately 10−8 seconds [20]. The short emission lifetime of SERS decreases the amount of time that the reporter molecule remains in an excited state and reduces photobleaching [21]. Another advantage of SERS probes is their ability to withstand extreme environmental conditions (changes in humidity, pH, and ionic strength) while maintaining a strong emission signal [22, 23]. Since SERS probes are resistant to environmental changes, they have been used for in vivo detection of biomarkers [24, 25]. Finally, because of the light scattering nature of SERS probes, a single light source can be used to excite multiple SERS probes at the same time [23, 26]. Each of these characteristics makes SERS probes ideal for robust and sensitive multiplex immunoassays.
SERS probes are fabricated using gold or silver nanoparticles labeled with Raman reporter molecules and antibodies for detection and targeting. The metallic nanoparticle core enhances the electromagnetic field near the Raman reporter molecules, resulting in an average light scattering enhancement of 104 - 106 times [27]. This enhanced electromagnetic field is caused by excitation of the nanoparticle's surface electrons and is referred to as localized surface plasmon resonance (LSPR). LSPR is an electron-wave resonance state caused by the oscillation of the nanoparticles' electrons in response to incident light. LSPR produces intense nanoparticle absorption and scattering at a specific wavelength referred to as the LSPR peak wavelength. The LSPR wavelength is influenced by the size, shape, and dielectric properties of the nanoparticles [28]. Nanoparticle geometry and LSPR characteristics can be tuned to match a Raman system's excitation wavelength, resulting in increased light scattering enhancement and greater SERS probe assay sensitivity [29, 30].
SERS probes used in direct cell labeling applications can typically be detected in the low pM to low nM nanoparticle range [
31
,
32
]. Table
1
lists references, published from 2013 to 2015, showing the dynamic range for SERS probes used in direct cell labeling applications [
33
–
37
]. Assay sensitivity and dynamic range vary widely and depend on multiple factors including nanoparticle geometry, Raman reporter density, and Raman system throughput [
29
,
38
]. Another factor that directly influences SERS assay sensitivity is the substrate used for sample analysis. Commonly used substrates for SERS-based immunoassays include gold or silver coated surfaces [
15
–
17
,
39
,
40
], quartz microscope slides [
41
,
42
], or mica sheets [
43
]. Less expensive polystyrene substrates are traditionally not used in SERS analysis due to their strong light scattering background signal and intrinsic fluorescence [
44
]. The goals of this research are to develop a SERS assay on a polystyrene substrate and to determine the effect of substrate inference on the assays sensitivity and dynamic range.
Table 1
SERS assay dynamic range
Nanoparticle Type

Raman Reporter

Dynamic Range

Lower Limit of Detection (LLOD)

Polystyrene Substrate?

Reference

Gold Nanorods (LSPR 815nm)

NIR Dyes

1 - 100 pM

1 pM

No

[33]

Silver Nanospheres Dimers

4-MBA

1 -500 pM

1 pM

No

[34]

Silica Coated Gold Nanospheres

S420, S421, S440

1-400 pM

1 pM

No

[35]

Silica Coated

Gold Nanospheres

S420,S440

1-1200 pM

1 pM

No

[36]

Silica Coated

Gold Nanospheres

S420, S421, S440

0.8 - 800 pM

0.8 pM

No

[37]

60 nm Gold Nanospheres

DTTC Iodide

76 - 500 pM

76 pM

Yes

**

Gold Nanorods

(LSPR 779nm)

DTTC Iodide

45 - 500 pM

45 pM

Yes

**
In this study, we developed Raman-labeled nanoparticles for an immunoassay using a polystyrene microplate substrate. SERS probes used in the assay were synthesized as shown in Fig.
2
. First, gold nanoparticles were labeled with Raman reporter molecules. After Raman reporter binding, polyclonal antibodies were covalently modified with a long-chain polyethylene glycol (PEG) linker molecule and then conjugated to the probe surface. The particles were further stabilized with additional PEG and then purified by centrifugation. This approach was used to produce SERS probes for a light scattering immunoassay. Optical absorbance spectroscopy was used to quantify elastic scattering from the gold nanoparticles, while Raman spectroscopy was used to detect inelastic light (Raman) scattering. This dual-modality approach can be used to characterize SERS probes prior to cell or tissue labeling studies and to assess the influence that substrate interference may have on the labeling application.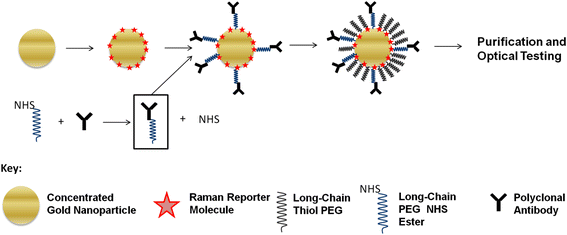 Conclusion
This research article has described a step-by-step process to fabricate SERS probe nanoparticles using spherical gold nanoparticles and gold nanorods. The optical properties of both SERS probe platforms were tested in a light scattering immunoassay. This method for SERS probe fabrication and testing promoted reproducibility and consistency in the probe's optical response and allowed us to fabricate SERS probes with a signal that could be detected on a polystyrene substrate. The optical signal of the probes was detected using a dual-modality approach where both elastic and inelastic scattering were detected using optical absorbance spectroscopy and Raman spectroscopy, respectively. Despite substrate interference, both spherical gold nanoparticles and gold nanorods had assay detection limits in the low pM range. These results suggest that SERS-based cell labeling applications could be conducted on a polystyrene substrate. This SERS immunoassay method has potential for high-throughput, multiplex biomarker analysis. In the future, these probes may be used to detect multiple biomarkers in a clinical setting. If pursued, this method could enable the simultaneous, high-throughput detection of biomarkers specific to hematological malignancies or other complex diseases that require the detection of multiple biomarkers for successful diagnosis and treatment.
Abbreviations
4-ATP:

4-Aminothiolphenol
4-MBA:

4-Mercaptobenzoic Acid
ELISA:

Enzyme-Linked Immunosorbent Assay
DTTC:

3,3′- Diethylthiatricarbocyanine
LSPR:

Localized Surface Plasmon Resonance
LLOD:

Lower Limit of Detection
OPSS-PEG-SVA:

orthopyridyldisulfide-polyethylene glycol-succinimidyl valerate
SDS-PAGE:

Sodium Dodecyl Sulfate - Polyacrylamide Gel Electrophoresis
SERS:

Surface-Enhanced Raman Spectroscopy
SH-PEG:

Thiol-Polyethylene Glycol
Declarations
Acknowledgement
This research was supported by a Research Catalyst grant provided by Utah State University. The authors would also like to acknowledge Peter Haight for his contributions.
Open AccessThis article is distributed under the terms of the Creative Commons Attribution 4.0 International License (http://creativecommons.org/licenses/by/4.0/), which permits unrestricted use, distribution, and reproduction in any medium, provided you give appropriate credit to the original author(s) and the source, provide a link to the Creative Commons license, and indicate if changes were made. The Creative Commons Public Domain Dedication waiver (http://creativecommons.org/publicdomain/zero/1.0/) applies to the data made available in this article, unless otherwise stated.
Authors' Affiliations
(1)
Department of Biological Engineering, Utah State University, Logan, USA