Technical advances in global DNA methylation analysis in human cancers
Journal of Biological Engineering
2017
11:10
Received: 9 December 2016
Accepted: 10 February 2017
Published: 1 March 2017
Abstract
Prototypical abnormalities of genome-wide DNA methylation constitute the most widely investigated epigenetic mechanism in human cancers. Errors in the cellular machinery to faithfully replicate the global 5-methylcytosine (5mC) patterns, commonly observed during tumorigenesis, give rise to misregulated biological pathways beneficial to the rapidly propagating tumor mass but deleterious to the healthy tissues of the affected individual. A growing body of evidence suggests that the global DNA methylation levels could serve as utilitarian biomarkers in certain cancer types. Important breakthroughs in the recent years have uncovered further oxidized derivatives of 5mC - 5-hydroxymethylcytosine (5hmC), 5-formylcytosine (5fC) and 5-carboxylcytosine (5caC), thereby expanding our understanding of the DNA methylation dynamics. While the biological roles of these epigenetic derivatives are being extensively characterized, this review presents a perspective on the opportunity of innovation in the global methylation analysis platforms. While multiple methods for global analysis of 5mC in clinical samples exist and have been reviewed elsewhere, two of the established methods - Liquid Chromatography coupled with mass spectrometry (LC-MS/MS) and Immunoquantification have successfully evolved to include the quantitation of 5hmC, 5fC and 5caC. Although the analytical performance of LC-MS/MS is superior, the simplicity afforded by the experimental procedure of immunoquantitation ensures it's near ubiquity in clinical applications. Recent developments in spectroscopy, nanotechnology and sequencing also provide immense promise for future evaluations and are discussed briefly. Finally, we provide a perspective on the current scenario of global DNA methylation analysis tools and present suggestions to develop the next generation toolset.
Keywords
5-methylcytosine (5mC)5-hydroxymethylcytosine (5hmC)5-formylcytosine (5fC)5-carboxylcytosine (5caC)LC-MS/MSImmunoquantitationNext generation toolset
Background: The trail of DNA methylation derivatives
In 1866, Gregor Mendel published his seminal research detailing the laws of inheritance [1] and shortly afterwards in 1869 Friedrich Miescher discovered the enigmatic compound "nuclein" or DNA as we know it today [2]. In the first half of the 20th century, Conrad Waddington designated the term "epigenetics" to describe "the branch of biology which studies the causal interactions between genes and their products, which bring the phenotype into being" [3] and used the "epigenetic landscape" metaphor to describe events contributing to embryonic development [4]. The "Sequence Hypothesis" proposed by Francis Crick in 1958 [5] was ultimately established as the "Genetic Code" by research efforts of Marshall Nirenberg, Har Gobind Khorana and Robert Holley [6]. While the genetic code lays out the procedure for translating hereditary information stored in DNA into functional attributes, the natural laws pertaining to "regulation of gene expression" or commonly referred to as the "epigenetic code" are still not understood. The explorative successes of post-1960 research have no doubt enhanced the current knowledge about the diversity of epigenetic mechanisms and its relevance in cancers [for a comprehensive understanding of the history of epigenetics refer to [7]], but as suggested by Bryan Turner much more needs to be done in terms of characterization of epigenetic marks and delineating their biological functions, before the epigenetic code can be deciphered [8].
DNA methylation is the most widely characterized epigenetic mechanism involved in the regulation of gene expression. Biochemically, DNA methylation refers to the enzymatically (DNA methyltransferases; DNMT 1/3A/3B/3 L) catalyzed addition of a methyl (−CH
3
) group to the C5 position of the cytosine base in DNA resulting in generation of 5-methylcytosine (5mC) (Fig.
1
). Conserved across the evolutionary hierarchy, 5mC regulates gene activity in a heritable manner without altering the primary DNA sequence and has been implicated in numerous biological processes [for a comprehensive review refer to [
9
]]. In healthy individuals, the traditional epigenetics paradigm was based on the association of elevated methylation (hypermethylation) with transcriptionally silent oncogenes and DNA repeat elements. In 2009, Tahiliani et al. discovered that 5mC can undergo Ten-eleven Translocation (TET) enzyme mediated oxidization to 5-hydroxymethylcytosine (5hmC) [
10
]. The emergence of 5hmC as an epigenetic player disrupted the simplicity of the traditional epigenetics paradigm and called for re-evaluation of the methylation landscape particularly because the tools hitherto used to assay 5mC were not specific and could not discriminate between the effects conferred by 5mC and 5hmC [
11
]. In 2011 Ito et al. demonstrated that TET can catalyze 5hmC to further oxidized derivatives- 5-formylcytosine (5fC) and subsequently 5-carboxylcytosine (5caC) [
12
] While the biological significance of these oxidized derivatives of 5mC is still in the process of being uncovered, it is becoming increasingly evident that the dynamic DNA methylation derivatives coordinate among themselves and with other players to regulate gene expression [
9
,
13
–
17
].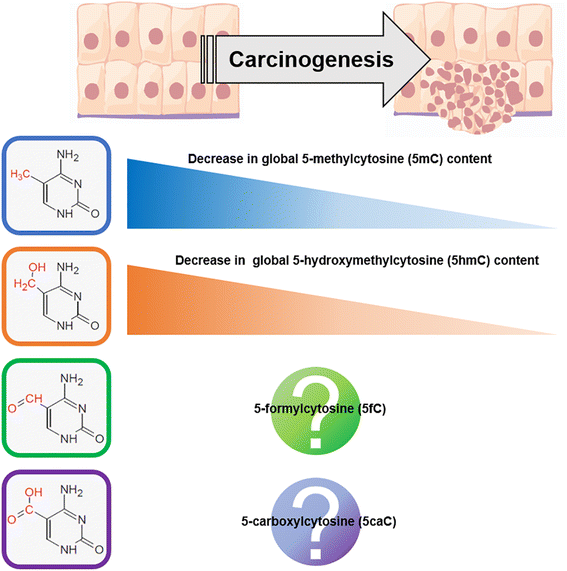 Relevance of the expedition: Global "hypomethylation" in cancers is almost universal
The global loss of DNA methylation content in human tumors compared to normal tissues was reported in 1983 through independent research efforts of Feinberg et al. and Gamasosa et al. [18, 19]. This novel discovery was initially disregarded as "an unwelcome complication" [20] but research spanning the last three decades has confirmed that the trend of global hypomethylation in human cancers is almost universal [20–24], although each cancer type may have characteristic localized regions associated with hypermethylation or hypomethylation [25–27]. The association between global hypomethylation in cancers and the overarching loss of genomic integrity suggested by chromosomal abnormalities associated with mutations in DNMTs and misregulated methylation patterns over DNA damage repair genes/retroposon elements [9, 21, 28, 29] indicate that it is likely that these events contribute to maintenance of a catastrophic physiological state symptomatic of cancers.
Alterations to 5hmC have also relatively recently been documented in hematological malignancies [
30
] and other solid tumors. The reduction in the content of 5hmC in adult glioblastoma and astrocytomas has been observed to correlate with poor prognosis [
31
,
32
]. Carcinomas of the lung [
33
], prostate [
34
], breast [
34
,
35
], liver [
33
,
36
], kidney [
33
], esophagus [
37
] and colon [
34
]; adenocarcinomas of the pancreas [
33
], prostate [
33
], stomach [
33
], uterus [
33
], and ovary [
33
] showed a significant reduction of 5hmC levels compared to corresponding normal tissues [
34
]. In comparison to 5mC and 5hmC, little is known to impute the trend of global 5fC and 5caC levels in tumors. While a recent study reported elevation of 5caC levels in invasive ductal carcinoma and glioma [
38
], another study noted the depletion of 5fC and 5caC in colorectal carcinoma [
39
]. Table
1
provides a summary of the recent clinical studies in global analysis of DNA methylation derivatives and drives home their relevance in the context of human cancers.
Table 1
Summary of representative clinical studies performed during the period (2011–2016) to estimate global levels of DNA methylation derivatives. Abbreviations: FFPE- Archived Formalin-fixed, Paraffin-embedded; IHC- Immunohistochemistry; Liquid chromatography-electrospray ionization-tandem mass spectrometry (LC-ESI-MS)
| Epigenetic Mark | Method of Study | Tumor type | Observation | Clinical relevance of observation |
| --- | --- | --- | --- | --- |
| 5mC | IHC | Colorectal cancer (n = 30) Vs Control group (n = 30) | Loss of 5mC | Associated with advanced colorectal adenomatous polyps [88] |
| 5hmC | IHC | Clear cell renal cell carcinoma (n = 111) Vs matched adjacent tissue | Loss of 5hmC | No correlation with grade/prognosis [89] |
| 5hmC | IHC | Urothelial cell carcinoma (n = 55) Vs matched adjacent tissue | Loss of 5hmC | No correlation with grade/prognosis [89] |
| 5mC & 5hmC | LC-ESI-MS | Clear cell renal cell carcinoma (n = 36) Vs paired normal | Loss of 5hmCNo change in 5mC | No correlation with grade/prognosis [90] |
| 5mC | IHC | Tongue squamous cell carcinoma (TSCC) (n = 248) Vs Tumor adjacent normal (TAN) (n = 235) | Loss of 5hmC | Associated with the poor disease-specific survival in TSCC patients [91] |
| 5mC | ELISA | Renal Cell Carcinoma (n = 889) Vs age, gender, ethnicity matched control group (n = 889) | Loss of 5mC | Associated with risk of developing RCC [92] |
| 5mC | LINE1pyrosequencing | Hepatocellular carcinoma (n = 208) | Loss of 5mC | Associated with poor disease free survival [93] |
| 5mC | LINE1 LUMA | Leukocytes of Breast cancer patients (n = 384) Vs matched control (n = 384) | Loss of 5mC | Associated with occurrence of cancer regardless of hormone receptor status [94] |
| 5mC | LINE-1 Pyrosequencing | Colorectal cancer with liver metastases (n = 42) Vs matched primary (n = 24) | No change | No correlation [95] |
| 5mC | LC-MS/MS | Laryngeal cancer (n = 72) Vs adjacent normal laryngeal tissue (n = 72) | Loss of 5mC in both groups | No correlation [96] |
| 5mC | IHC | Prostate Cancer (n = 48) Vs adjacent benign (n = 48) | Loss of 5mC | No correlation with prognostic /pathologic grade [97] |
| 5hmC | IHC | Parathyroid carcinoma (n = 17) Vs Parathyroid adenoma (n = 43) | Loss of 5hmC | Diagnostic criterion for rare disease [98] |
| 5hmC | LC-MS/MS | Bone marrow & Blood from AML (n = 206) Vs Healthy control | Wide range of 5hmC | High 5hmC levels associated with poor prognosis, low levels have no correlation [99] |
| 5hmC | IHC | Glioblastoma (n = 162) Vs healthy control (n = 66) | Loss of 5hmC | Marker for tumor infiltration zones [100] |
| 5caC | IHC | Breast cancer (n = 59) Vs healthy control (n = 28) | Gain of 5caC | No correlation arrived at [38] |
| 5mC, 5hmC, 5fC & 5caC | LC-ESI-MS | Colorectal carcinoma (n = 24) Vs matched tumor-adjacent normal | Loss of 5hmC, 5fC and 5caC. No change in 5mC | No correlation arrived at [39] |
Undertaking the expedition: Tools for quantifying DNA methylation derivatives
In 1948, Rollin Hotchkiss while attempting to quantitatively study the composition of the eukaryotic DNA using paper chromatography, reported the incidence of a minor constituent (designated as "epicytosine") with a migration rate slightly greater than that of cytosine and suggested that the uncharacterized "epicytosine" might be 5mC [
40
]. Ever since then, chromatographic tools have dominated the field of DNA methylation analysis and have subsequently evolved to include gas [
41
] and liquid [
42
,
43
] chromatography. Liquid chromatography coupled with mass spectrometry (LC-MS/MS) is regarded as "the gold standard" for quantitative analysis of 5mC and currently this procedure has been adapted to incorporate analysis of 5hmC, 5fC and 5caC. The emergence of immunoquantification tools particularly in clinical settings serves as an alternative strategy for analyzing the four DNA methylation derivatives known as of today. Additionally two other methods based on LINE-1 pyrosequencing [
44
] and methylation-sensitive restriction digestion [
45
] are well established for the quantifying of global 5mC in clinical samples but are inapplicable to the analysis of the other DNA methylation derivatives and will not be elaborated in this review. In the following sections we will provide our perspective of the two prominent DNA methylation analysis toolsets based on LC-MS/MS and immunoquantification followed by some strategies that singularly or in combination show great promise of being developed as the next-generation toolset (See Figs.
2
and
3
)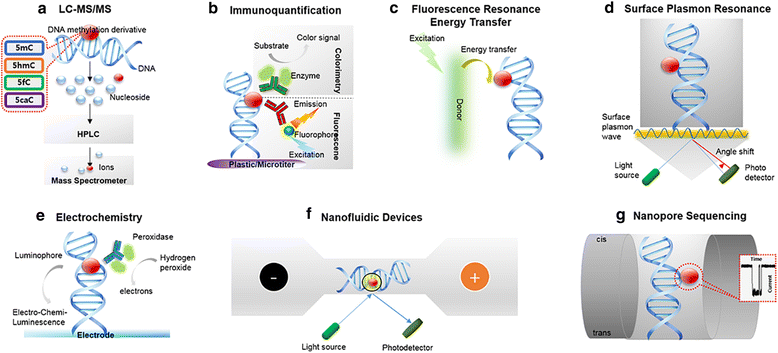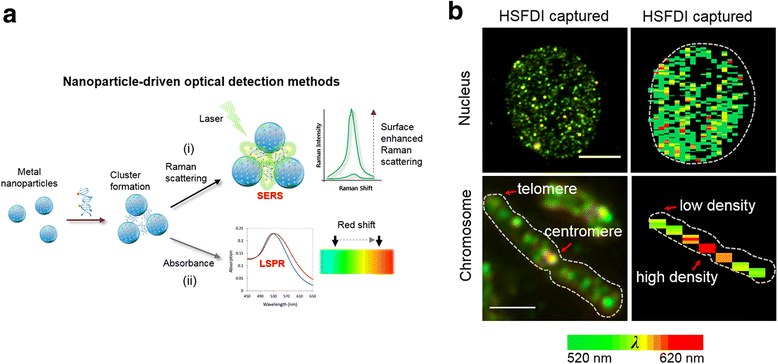 Conclusion and the future roadmap
The challenge of quantifying global levels of DNA methylation derivatives can be gaged from the relative abundance of these epigenetic marks. In humans, 5mC makes up about 1% of the total DNA bases [
80
] and 5hmC abundance is 
∼
 10 to 100-fold lower than that of 5mC [
10
,
32
,
81
]. On the other hand, 5fC and 5caC occur 
∼
 40 to 1000 times less frequently than 5hmC [
12
]. For over three decades, chromatography based methods have continued to dominate bioanalytics and it is reasonable to expect that LC-MS/MS will continue to play a critical role in the evaluation of epigenetic modifications. It is worth mentioning that 5hmC, 5fC and 5caC were first discovered in human tissues by thin-layer chromatography and finally confirmed by LC-MS [
12
,
82
]. Immunoquantification tools serve as a simple strategy and remain extensively used for the analysis of global content of methylated DNA derivatives especially in the post-2011 era and serves as an invaluable tool for clinicians. Additionally, tools analyzing the 5mC levels of DNA repetitive elements such as LINE-1, Alu and Sat-α can serve as acceptable surrogate indexes to estimate global DNA methylation level [
83
,
84
] but cannot be applied to the analysis of the other derivatives. Thus, LC-MS/MS and immunoquantification constitute the two most widely exploited methodologies for global analysis of DNA methylation derivatives in human cancers. While, LC-MS/MS is considered as the gold standard method for quantitative analysis of DNA methylation derivatives, the logistical and technological complexities involved in processing and analyzing data, limits its applicability in a clinical setting. On the other hand, immunoquantification is simple and can be successfully integrated with emerging optical, electrochemical and microfluidics technologies, but fares only second to LC-MS/MS in terms of analytical metrics (details of the comparison depicted in Fig.
4a
). The sophistication in optics, antibody development methods, advances in materials research, standardization of materials processing methods, scaleup of nanoparticle fabrication processes presents enormous opportunities for further refinement of 5mC analysis. It is conceivable that rapid point of care (POC) epigenetic screening methodologies based on the emerging technologies will be developed in the near future (please refer to Fig.
4b
to understand the authors' illustrative summary of the current state of global DNA methylation analysis tools and the opportunities for development of state-of-art analysis tools).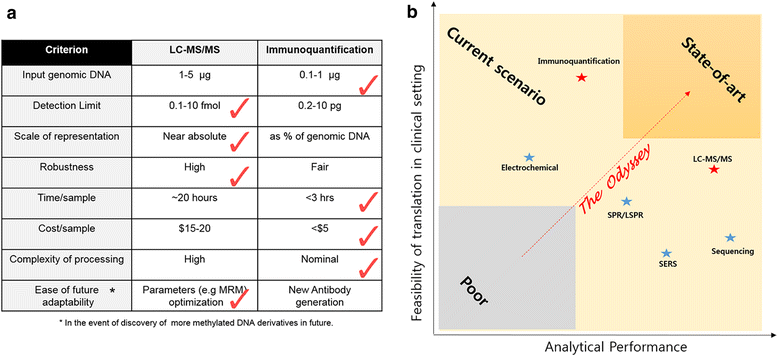 It is also conceivable that with the emergence of Next Generation Sequencing (NGS) technologies, quantification of global methylation derivatives along with the precise identification of localized sites undergoing these alterations will become prevalent. While this may in the foreseeable future help clinicians make informed choices pertaining to patient profiling and therapeutic management, standards will have to be developed to decorously interpret the disease risk imparted by global changes of the methylome. We realize that the infrastructural wealth available to scientists in biomedical settings may not be practical in a clinic and in this regards, and to address this challenge our lab and others have used lateral flow techniques that can potentially be used for onsite sensing [85, 86] in conjunction with chromatin extraction methods [87] to addressing this lacunae. Sample preparation will continue to challenge the point of care sensors development. However, we are optimistic that advances in miniaturization, development of novel materials, production of capture biomolecules (antibodies, aptamers etc.) will infuse sufficient enthusiasm to further the field of developing analytics for epigenetics. Finally, further explorations of the molecular dynamism of 5hmC, 5fC and 5caC will bring clarity to their biological significance in cancers and identify other areas for the development of tools for diagnostic determination of the methylated DNA derivatives. We expect loci-specific evaluation and quantification of epigenetic targets utilizing modern technologies to become important metrics with more mechanistic studies. In this regard, development of algorithms with heuristics to expound on the profiles of methylome for prognostic determination could become prominent. In summary, it is exciting to note the milestones covered in this trail of DNA methylated derivatives and assess from these studies the impending way ahead for developing tools that hold the key to understanding the "epigenetic code" and its deregulation in diseases such as cancer.
Declarations
Acknowledgements
Dr. Yi Cui for his help in preparing Fig. 3b.
Funding
W.M. Keck Foundation, the Indiana-CTSI and Purdue Center for Cancer Research.
Availability of data and materials
Not applicable.
Authors' contributions
B.C. (biological), I.H. (technical) and J.I. drafted and approved the final manuscript.
Competing interests
The authors declare that they have no competing interests.
Consent for publication
Not applicable.
Ethics approval and consent to participate
Not applicable.
Open AccessThis article is distributed under the terms of the Creative Commons Attribution 4.0 International License (http://creativecommons.org/licenses/by/4.0/), which permits unrestricted use, distribution, and reproduction in any medium, provided you give appropriate credit to the original author(s) and the source, provide a link to the Creative Commons license, and indicate if changes were made. The Creative Commons Public Domain Dedication waiver (http://creativecommons.org/publicdomain/zero/1.0/) applies to the data made available in this article, unless otherwise stated.
Authors' Affiliations
(1)
Department of Medicinal Chemistry and Molecular Pharmacology, Purdue University, West Lafayette, USA
(2)
Department of Biomedical Laboratory Science, College of Health Science, Eulji University, Seongnam, Republic of Korea
(3)
Bindley Bioscience Center, Purdue University, West Lafayette, USA