Engineering biodegradable and multifunctional peptide-based polymers for gene delivery
Journal of Biological Engineering
2013
7:25
Received: 23 August 2013
Accepted: 17 October 2013
Published: 24 October 2013
Gene therapy has the potential to improve therapeutic outcomes for currently untreatable diseases. Viruses are naturally efficient vectors for gene therapy, but have encountered obstacles in clinical translation due to issues such as vector toxicity and immunogenicity, potential gene integration into oncogenic regions, and high production costs. Thus, nonviral materials, e.g. cationic lipids and polymers, have been extensively engineered as gene delivery vectors and are attractive alternatives to viral vectors because they tend to have improved safety profiles and lower costs of production [1]. However, nonviral vectors have not been as successful in attaining high transgene expression efficiencies in vivo. In order to enhance the gene transfer efficiency of these materials, several groups have explored the use of bioactive peptides to address various extracellular and intracellular barriers to nonviral gene delivery, such as cellular uptake, endosomal escape, cargo unpackaging, and nuclear translocation [2–5]. These multicomponent synthetic materials have been engineered to overcome these barriers for various applications [6], including delivery to neurons [7] and hepatocytes [8].
Recent advances in living polymerization techniques, such as reversible-addition fragmentation chain transfer (RAFT), have allowed the development of well-defined polymers with controlled architectures and quantitative monomer incorporation [9–11]. Peptide-polymer conjugates containing multiple peptides can be synthesized by grafting peptides to preformed polymers or by polymerization of peptide monomers. The grafting technique has been extensively reviewed elsewhere [12–14]. The Klok group demonstrated the synthesis of peptide brush copolymers by RAFT polymerization of coiled coil peptide motifs in 2010 [15].
In this review, we summarize our work in the development of copolymers consisting of
N
-(2-hydroxypropyl)methacrylamide (HPMA) and multiple pendant oligopeptides for gene delivery (Figure
1
). Cationic peptide moieties were explored and optimized for DNA condensation. To improve biodegradability, environmentally-responsive linkers were incorporated into the HPMA copolymers. In addition, both buffering and membrane-disruptive peptides were evaluated for enhancing endosomal escape of the polyplexes. Throughout our work, we have also noted effects of polymer architecture and multivalency on transfection efficiency. Finally, we conclude with some therapeutic applications for this class of peptide-functionalized brush polymers that we have investigated.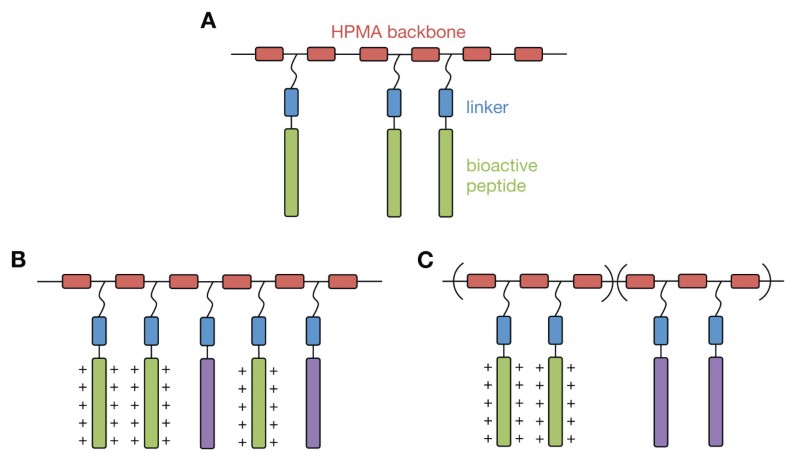 (1)
Department of Bioengineering and Molecular Engineering & Sciences Institute, University of Washington, 3720 15th Ave NE, Seattle, WA 98195, USA
© Shi et al.; licensee BioMed Central Ltd. 2013
This article is published under license to BioMed Central Ltd. This is an open access article distributed under the terms of the Creative Commons Attribution License (http://creativecommons.org/licenses/by/2.0), which permits unrestricted use, distribution, and reproduction in any medium, provided the original work is properly cited.